This year's 20th anniversary AREC conference was bigger than ever, with 4,000 attendees gathering to learn from the best in the industry. Here's what you can learn from the event.
A topic that was popular was social media, personal branding and how agents can dominate their marketplace by using these platforms correctly. Here are the three key takeaways that resonated with me:
1. Facebook ads are the new letter box drop
In an interview with Tom Panos, digital marketing king Gary Vaynerchuk said Facebook Ads are the most important tactic for real estate agents now.
"I think Google Ad Words are great, direct mail is fine. I don't think anything is dead. I just think that people sending direct mail don't realise that if they took that $8,000 and spent it on Facebook properly – because you can waste it – they would win," Mr Vaynerchuk said.
Ric Serrao – of Raine & Horne Double Bay and number one international sales person for the group for the past four years – spends around $200 to $300 per month on Facebook amplification. He said that after AREC, he will be increasing this to $500 a month.
After spending around $100,000 on social media a couple of years ago, Mr Serrao now believes in keeping it simple, focusing on three key platforms – Instagram, Facebook and LinkedIn.
Facebook advertising is fast becoming a key marketing tactic for businesses looking for brand awareness, leads and engagement. However, you need to understand how to target the right audience, create great ads and optimise your advertising to avoid wasting money. Don't leave this in the hands of an amateur.
2. Video on Facebook is king
It's no secret that Facebook is trying to become the leading platform for online video with their recent launch of a dedicated video tab feature and Apple TV app. The platform is giving greater preference to video content, especially live, in the Facebook News Feed.
Consumers spend 19.5 minutes per day watching video content on their mobile devices.
Josh Hart, director of One Agency Launceston, wrote more than $1 million in commission at the age of 26. His personal branding strategy is focused on social media and video. Mr Hart said Facebook is the new database and Generations Y and Z have more influence on their parents' decisions than ever before.
"Everyone here is a product. In this digital age, everyone searches your name on Facebook. How are you being perceived?" he asked.
In terms of video content, Mr Hart recommended trying property videos, vendor testimonials, property sneak peaks, property profiles and competition draws.
He uses demographically targeted Facebook video ads to sell listings and generate leads in his marketplace. Mr Vaynerchuk also suggested a similar approaching, saying, "A video or picture that excites people, targeted to people who live in the neighbourhood or some other data point – income or demographics that match what you are trying to achieve".
We recently ran a Facebook Ad for a client using a branding video targeted to their local area. With a spend of only $150, the video has already received over 10,000 views by people in their marketplace. When you consider how many people you can reach through letter box drops for the same budget and effort, these results are actually pretty incredible and, of course, trackable.
3. Give first
To build trust with your audience, agents should offer content that they want to read, watch or listen to. Giving value on social media rather than constant self-promotion is imperative. It is OK to scatter your sales results and listings into a value-driven strategy, but don't make this the focus.
Robert Cialdini, universal master of persuasion, spoke at AREC about 'The 6 Principles of Social Influence'. 'Reciprocity', the theory of giving first to receive, was one of the key focuses.
"You get what you give, find ways to give first. Give advantages, give benefits," Mr Cialdini said.
Agents should talk about what they know on social media. You don't have to be the most charismatic person in the world, just talk about what you know, your market and area knowledge.
Mr Vaynerchuk suggested creating content around local businesses, public spaces and schools in your marketplace.
"Give, give, give and then ask. Post five times with value and then the sixth post talk about yourself/listing, [and] all of a sudden, you become the area expert," he said.
AREC was certainly filled with great tips and takeaways, but social media was a key theme on many speakers' lips. It is clear that social media should be a key part of any businesses' marketing strategy and is not to be taken for granted or left to amateurs. As with any other marketing method, social media does require budget and resources to achieve results.
Leading Melbourne agent at Marshall White, Marcus Chiminello was wise to mention that social media should be an 'and' not an 'or'. It shouldn't replace regular prospecting or business development, but enhance and accelerate current efforts.
ABOUT THE AUTHOR
---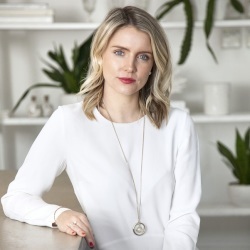 Tiffany founded Chronicle Republic to pursue her love of property and her drive to make brands shine. Her unique industry experience means she truly understands the needs of her customers.
With a Masters in Marketing and a Bachelor of Arts in Communications Tiffany has wealth of experience, and has worked on dozens of marketing projects for businesses in the property, interior design and home improvement industries.
Former Marketing Director for an award winning, innovative real estate agency, Tiffany was awarded the first ever industry award for Digital Marketing in 2014.
Tiffany is passionate about seeing other businesses grow and prides herself on helping brands bring their stories to life.