By now we are all aware that, as a business, having a professional presence on social media is imperative to gain trust, maintain credibility and build brand awareness with customers. But should your team members have their own social media profiles?
For real estate agents, many who operate as businesses within a business, social media can be a powerful tool to build their profile, promote their listings, stay in touch with pipelines clients and meet new clients.
Having agents as brand advocates for your agency is a good thing. However, it is important to ensure that the content your agents are sharing on social media is quality, professional and does not damage your reputation.
What are the benefits and what can go wrong?
Pros:
• Leverage your agents' profiles to gain more brand awareness for your agency
• Economies of scale – the more people you have representing your brand positively online, the more reach your brand will get, which is beneficial for everyone
• Improve visibility on Google for your agents and possibly your agency
• Agents can show their human side, breaking down trust barriers with clients
• Build more brand awareness in your local area
• More listings for your agents, means more revenue for your business
• Create a consistent professional look online
Cons:
• Potential damage to your brand, including negative PR
• Neglected profiles with no engagement look unprofessional and can erode your social proof
• Agents could take their social media profiles with them if they leave your company
• Relinquishing control of your brand online can become challenging to manage
• You could be competing with your agents' social profiles for engagement if you are trying to reach the same audience
• Social media can distract agents from dollar-productive activities, such as prospecting
• Handled incorrectly, social media can be a huge waste of time and resources for both your agents and your business
Here's what you and your agents should consider before attempting to build a social media presence:
Do you have the resources available to manage social media?
If your agents are solely responsible to fund and manage their social media presence, then it's best to ensure that if they are going to go down this path they have the resources available to execute it in a quality and professional manner. Social media is not the only marketing avenue, and it can be both labour-intensive and costly to gain any return on investment if not done correctly. If an agent doesn't have the budget nor the time to do this properly, then their time may be better spent making extra phone calls rather than posting on their Facebook page.
Don't just have a profile for the sake of it
If your agent plans to manage their own social profile, ensure that they are posting content regularly (a couple of times a week at the minimum), responding to comments and engagement and promoting their page and posts to the right audience to build a following of potential clients.
If they are planning to outsource their social media, can they afford to pay someone who can maintain a quality presence for both the agent and the agency?
Consider having a preferred supplier you trust that you can recommend to your agents to ensure consistency.
Choose one platform
Few businesses can afford to invest in every marketing platform available, so if social media is the platform of choice, ensure that it resonates with your target market and is a strong focus of your agent's personal branding strategy. Email, blogging, newspaper ads are all valuable marketing tools, too, so really think about the clientele and where you will get bang for your buck and reach more of your target audience.
In an ideal world, every estate agent would have a strong presence on all the social platforms, but the reality is it takes time and money to build this. Focus on one platform rather than trying to build a presence on all the social platforms. Facebook is the most used and best platform in terms of targeting right now; however, it depends on where your clientele hangs out. For example, in an executive market, LinkedIn could be a more powerful platform. If leads and listings are the main goals, then Facebook Ads might be a better approach than a content strategy for agents with limited resources.
Know when and how to draw the line between business and personal profiles
Although all agents should feel free to have their own social media profiles to promote themselves, they are also promoting your brand. It is important that your agents understand what is an acceptable and unacceptable post when mentioning your brand on social media. This can be outlined via a social media policy.
You do not want agents posting wild nights out or political agendas on their social media profile if it mentions or reflects the brand in any way. If your agents post personal content such as this, we recommend they have two social media profiles per platform — one for their friends and family (set to private), and one that is solely related to their profession as a real estate agent that represents your agency – in order to lower any risk of unacceptable content.
ABOUT THE AUTHOR
---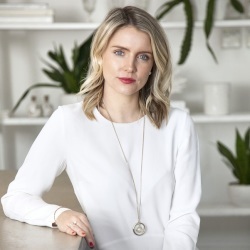 Tiffany founded Chronicle Republic to pursue her love of property and her drive to make brands shine. Her unique industry experience means she truly understands the needs of her customers.
With a Masters in Marketing and a Bachelor of Arts in Communications Tiffany has wealth of experience, and has worked on dozens of marketing projects for businesses in the property, interior design and home improvement industries.
Former Marketing Director for an award winning, innovative real estate agency, Tiffany was awarded the first ever industry award for Digital Marketing in 2014.
Tiffany is passionate about seeing other businesses grow and prides herself on helping brands bring their stories to life.