One of the battles I'm watching closely is that between Amazon and Google. Both are investing huge amounts of money and attention into digital assistants.
This isn't something new. Digital assistants have been around for a while, but they're evolving. They're starting to take on more complex functions — ordering your food, driving your call and, potentially, finding your next home.
In July, Amazon made noise by testing out its new real estate service. The technology is simple. Nothing ground-breaking. Not yet. Amazon is testing various ways to get into real estate referral business. No doubt, it will tweak and push this into its Alexa digital assistant services.
Meanwhile, Google is doing the same thing, but on a much bigger scale. At its annual conference this year, Google teased the market with its Lens technology. Point your camera phone at anything. Google will search the internet and deliver relevant results. You don't need to type the text into a search box anymore.
Impact on real estate
How does this impact real estate? Well, Google has pretty much mapped the whole world. It has a wealth of information. It knows what people are searching for. It has the world's most powerful advertising platform. Google wants to create a new search experience. It needs to keep its advertisers within its ecosystem.
Amazon is becoming the world's most significant marketplace. Most of the developed world either buys, sells, rents or leases real estate on a huge, ongoing basis. Amazon would love to clip each transaction.
Real estate requires advice and attention. That is why agents are still relevant in the market. Some clients want to do things themselves. But most people want advice when making big decisions — when it comes to the pointy end.
That might explain why real estate has been slow to innovate. Banks and financial products have been a lot more digital. But this could change. Amazon and Google are building very powerful digital assistant platforms, which means the way we buy or sell real estate could be about to change.
As always, disruptive technology is uncertain. Complacency is probably the biggest risk for traditional agents. When my team and I started building CRIBZ, we realised that agents are an essential part of the process. Machines cannot do everything, particularly when it comes to large investment decisions. A machine can order your food, find your airline tickets, but a home to raise your family in? That requires a gatekeeper and agents should embrace that opportunity.
Not using the internet to sell your listings is almost unimaginable. Not being plugged into Amazon or Google could be the same at some point in the future.
ABOUT THE AUTHOR
---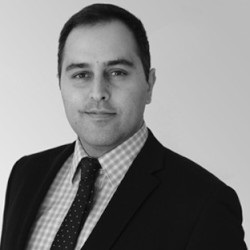 Peter is the CEO of CRIBZ, the online property assistant for millennials.