It should come as no surprise that technology, in general — and social media management, in particular — for real estate is quickly becoming a key lead generation strategy for the big real estate brands. And you don't need a massive budget to be part of this trend.
Australians are changing the way they research and share information, and real estate agencies are finally taking action.
Perhaps the most high-profile case of targeted social media advertising and nurturing by a real estate agency in recent months has been the launch of LJ Hooker Boost. It really is a game changer.
By embracing social media, they have shown that they're willing to lead the way forward. With the rise of serious competitors coming out of the digital space — from real estate news websites to online property marketplaces — traditional real estate agencies willing to evolve with the times are the ones that find the most success.
For smaller agencies, however, a multimillion dollar social media advertising blitz is simply not feasible. But then again, much of this cost burden is also not an issue for independent and small-to-medium real estate agencies. With robust native tools like Facebook business manager, there is no need for custom-platform framework, regional automation or complex technical lead generation funnels. For a leaner business, managing social media presence involves a lot less time and manpower.
And, when compared to traditional marketing, this new trend often provides a better ROI.
Content 
So, why are so few real estate agents embracing social media? From our experience, the largest roadblock is the content. What to post, when to post, how to post, who to tag. And while at first it can sound daunting, after understanding the fundamentals, social media for real estate starts making a lot of sense for most agencies and even individual agents. Your audience is highly engaged, the overheads are low and it supports your sales process at every step in the conversion funnel.
So, start today. Begin with a plan. Select your social media platforms. Decide on a launch date. Put together a folder of branded photos and videos of your properties.
Then, post something — anything! Comment. Respond to people. Get the word out among friends, family and colleagues. Go from there. Once you actually begin the conversation, the content will follow.
And when's the best time to implement it? Today!
ABOUT THE AUTHOR
---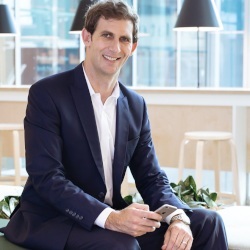 Ryan Shelley is the managing director of Pepper IT.
Regarded as a social media expert, he is regularly called upon to give expert advice, recommendations and presentations on all things digital marketing.
He has recently worked with Channel 7, ABC News and Marie Claire.