It's the start not just of a new year, but a new decade. With the rise of proptech and so much technology enabling change to what we do and our customer expectations, it's a great time to reflect on what could happen to real estate over the next five to 10 years.
From dramatically transformed franchise models, the death of the seller-principal model and mega offices dominating property services - here's my take on how real estate will change over the next decade.
 
1. The rise of the tech hub — and the transformation of traditional franchise models
Real estate franchises have traditionally offered practising agents a brand to operate under, some marketing support, training and awards and events to create a sense of community.
They've largely hoped to inspire engagement based on perceived merits in return for a fee and a percentage of sales with most offering their technology stack as an opt-in. It is the traditional real estate franchise model that will see the biggest shakeup over the coming years.
The experiences of Compass, eXP and Side in the US - and eView here in Australia - are signals of the radical rethink of the business model of real estate franchising. These real estate groups all enable their agents to do what they do best through new generation technology and services that are extremely customer-centric and have an emphasis on automation, data gathering and lead capture - and treating high performing agents like rockstars. 
The US businesses are strong employers of data and marketing engineers, large tech teams and are funded to find solutions that make life easier for agents and the property experience frictionless for consumers. These investments are millions of times above and beyond what an independent principal in a suburban office could ever hope to cobble together with a string of SAAS subscriptions.
In response, franchise groups are already starting to invest more heavily in technology and data, but they are encumbered by legacy systems and old business models whereas the new players can subsidise these costs to agents through investment arms and capital raising. It will be interesting to see who breaks the cycle first. 
2. AI-enabled agents will proliferate
Forget the mobile phone analogy. AI will become as essential to agents as air in coming years, as the industry joins an arms race of tech-enhancement to meet customer expectations, resolve administrative pain points and deliver superior customer service without killing themselves in the process.
Bots are already responding to inquiries, capturing and prioritising leads, analysing databases, sending out information and providing reminders to help agents win more business. As the tech moves from leading edge to mainstream, those businesses, franchises and individuals who have adopted it first will find themselves in pole position supporting their teams with an army of bots rather than admin assistants or outsourcing infrastructure.
Just as Moore's Law states that computer processing power for computers doubles every two years, those early adopters will exponentially increase their use of AI to create and retain a position of dominance in their markets.
In the next 10 years, the phrase 'have my people talk to your people' will mean our AI assistants will sort out the details of selling, buying and renting, leaving the humans time to enjoy coffee and pick curtains for their new home (based on some highly curated recommendations).
3. Death of the seller principal and the rise of the mega offices
The rise of AI and the new tech-hubs signal a seismic shift in the choice for high performing agents about their careers. Do they want to join a resource rich, tech-enabled corporation that will help them to hit their targets with the latest AI, service support, leads and real-time performance metrics and customer experiences with subsidised cost models?
Or should they take the step to open their own office under franchise team colours so they can 'run their own show' and pay for everything?
As we move towards 2030, new choices for top performing agents will make their career progression a lot more black and white – and there are some interesting implications for the industry.
Top performing agents will no longer need to take on the burden of office infrastructure to grow their earnings if what they really love is getting on the tools.
Equally, the tech-enabled business models require more qualified and experienced business managers than a pool of self-taught principals can supply. Expects to see more MBA qualified leaders entering the industry, attracted by the combination of technology, customer service and high stakes of property.
The implications will be bigger, more professionally run offices, career structures and better resourced offices that offer a full gamut of property services executed to a higher level than a typical suburban agency can dream of currently. Staff will equally be able to work from home, the local café or their hot desk connected constantly to the office through their AI assistants and state of the art technology.
4. Property as a service and the end of the commission-only model
One of the astonishingly weird things about property in Australia currently is the discrepancies in service between property ownership and property management.
If I rent a property for $250 a week and experience any issue with it, I contact my property manager and (eventually) the problem is fixed with minimal involvement from me.
However, if I buy a property for $2.5 million and experience an issue with it, I need to play rock, scissors, paper with my husband to see who gets the privilege of taking time off work to contact a handful of tradies, three of whom won't return my calls, so I can wait at home for an allotted four hour period, during which two won't show up and the third will quote me a level that would fund the national debt.
The work will then take twice as long, cost twice as much and involve spousal shouting and questioning of life choices. Fun times. So bring on the future.
Buying a property will soon involve the option to also buy a property management subscription service to concierge any issues, finding qualified tradespeople whose work is known and guaranteed to be high quality. Property owners will still pay for the work, but the burden of managing the work will be taken care of (and even advice on what work will add the most future value!)
Mega offices running large property management teams will have invested in the infrastructure and career progression to allow these businesses to thrive on both the revenue of the subscription, and commission based on repairs.
Property managers will no longer drown in the administrative work of email responses and a million texts and missed calls. Instead they'll be driving the heart of a thriving property services business that are gratefully embraced by embattled property owners, creating relationships for life and providing a rich source of sales leads. In the 2020s, my prediction is that property management will come into its own as the driving force of real estate.
5. The number of agents will reduce, but the industry will grow
This mix of bigger businesses that are more professionally run and made transparent by technology, with better career structures and multiple revenue models will change our human face.
Coming into the industry already are data scientists and analysts, app developers and engineers, but expect to see more people from outside the industry entering property. These include marketing engineers, design thinking experts, user experience designers, cloud computing specialists, change management experts and customer experience champions attracted by the dynamic pace of change, the thirst for new experiences and the money the industry promises to top performers who excel.
By the same token, the pace of change will encourage others to leave. There is currently a large proportion of seller-principals in the industry who feel their business has grown as big as it can under their stewardship and who don't have the stomach to go through yet another tech upgrade.
There's absolutely nothing wrong with this. But expect to see more businesses and rent rolls on the market which in turn will emphasise further the gaps between suburban agencies and mega offices. In this race, those with the best access to capital could win.
6. Real estate agents for life and a balanced life for agents
The current experience in real estate in Australia is to hire an agent if you want to sell a property, and hope for help (but don't expect it) if you want to buy a property. The commission model aligns the help we receive to 'outcomes' but not services, while agents run around like headless chooks trying to stay on top of everything. The rise of technology however is changing this fundamentally.
Over the next decade, the technology will make real estate experiences as frictionless as ordering pizza, as secure as transacting with your bank and as helpful as dealing with a six star hotel concierge. In short, it will be a pleasure, making our sense of home even stronger.
Just as we have regular appointments with accountants, dentists and possibly family solicitors, we'll have a family agent. As property owners, the support we receive from our property services manager on a monthly, quarterly or annual basis will underpin our relationship. Agents will become trusted advisors, not just about our current homes, but property portfolios and building and managing our wealth.
All of this will be possible within the industry because of the adoption of technology that frees us from our enslavement to 'busy' and the associated stress and mental health issues it is shown to create for agents.
With our army of bots in the background handling the details, we'll have time to connect again – with our clients, our friends and our loved ones. Our customer satisfaction levels will improve, as will our commissions and revenues and our trust-factors. We'll offer amazing 24/7 service while working fewer hours each day, using the extra time for education, personal development and connection.
Over the next 10 years, the real estate industry will have significantly transformed. Let's bring it on!
By Kylie Davis, co-founder and CMO, HomePrezzo
ABOUT THE AUTHOR
---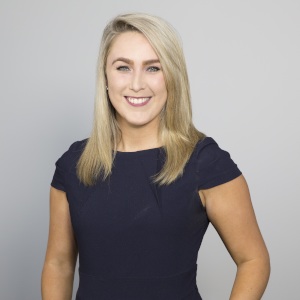 Emma Ryan is the deputy head of editorial at Momentum Media.

Emma has worked for Momentum Media since 2015, and has since been responsible for breaking some of the biggest stories in corporate Australia, including across the legal, mortgages, real estate and wealth industries. In addition, Emma has launched several additional sub-brands and events, driven by a passion to deliver quality and timely content to audiences through multiple platforms.
Email Emma on: [email protected]com.au