Proptech is a "golden opportunity" that business-savvy individuals and groups are always going to want to tap into in Australia, according to two real estate heavyweights.
In a recent episode of What's Making Headlines, hosts Phil Tarrant and Tom Panos were discussing the "big business" of real estate in Australia and its knock-on effects in the proptech space.
"Everyone knows the possibility and the value and the amount of money that is spent in the real estate sector," Mr Panos considered as the pair reflected on the recent announcement by online auction heavyweight Gray's that it would be entering the real estate auction space.
"Every business that's got an angle that's going to help or participate, they're going to go in and they're going to give it a go," he continued, noting plenty of organisations — media, especially — that have done so previously.
"Let's remember, no one has the exclusive rights to real estate in Australia," Mr Tarrant weighed in.
"It is an open market. It's an open plating field.
"Agents, borrowers, vendors, tenants — they'll vote with their feet."
The REB director continued: "People want ease. They want things to be easy. They want things to be on their terms, so if people create a new way in which real estate actions can take place, transactions can take place, how people manage property, how people invest in property, these things are going to pop up."
For Mr Panos, proptech "is a golden opportunity".
"Why? Because the consumer is looking for something to be done faster, easier, cheaper and better."
The real estate trainer said there are plenty of avenues that are ripe for new innovation, and not just through another consumer-facing sales platform. He said: "I'm actually talking about other parts to the transaction for consumers. We see that in sales. We see that in property management. Maybe things that make it easier for agents. Things that are making it easier for buyers. Things that are making it easier for sellers."
Comparing proptech capabilities to what he uses his phone for, Mr Panos said "there is a golden opportunity out there" for "cheap, easy and fast" entrants onto the real estate scene.
Some entrants on the proptech scene "are going to do well", Mr Tarrant mused, while others will be less successful.
And a driving force behind such success and innovation, according to the director? It's avoiding encumbrance.
"We've been very fortunate in real estate in Australia — one of the reasons why it is such an attractive asset class for investors and why most Australians are highly connected with real estate, is that it has a lot of utility. It's a house. It's a home. You live in it. It gives shelter," Mr Tarrant said.
"This is the reason why real estate has been so strong in Australia — you've got some great brands in real estate, mainly on the sales and property management side, family businesses, third generation, maybe even fourth-generation businesses. LJ Hooker, for example, who has been the backbone of real estate in Australia."
Mr Tarrant has said it is "a testament" to all these organisations that they're not sitting around going, "Oh, let's just continue to do things as we've always done it."
"They've all been pretty reactive and responsive to keeping up with the needs of real estate moving forward, and they will continue to do that," he said.
"But, just because they've got that pedigree and that history doesn't necessarily give them exclusive carte-blanche ownership to remaining in the industry.
"They have to remain competitive, so we're going to see new apps. We're going to see new platforms. We're going to see new systems. We're going to see new processes, coming into real estate now and into the future, for the basis of a better outcome for all.
"Let's get into it!"
Mr Tarrant also highlighted how, in many ways, Australia has shown how real estate can be done, with its working emulated the world over.
"REA, for example — great brand, home grown — that has now propelled itself up into Asia and other parts of the world.
"Let's lead the way — proptech is the future."
ABOUT THE AUTHOR
---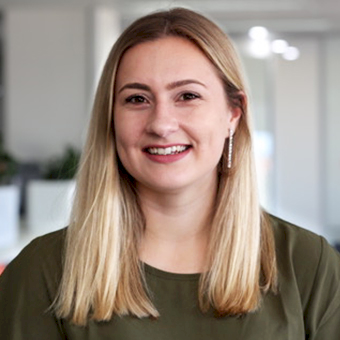 Grace is a journalist across Momentum property and investment brands. Grace joined Momentum Media in 2018, bringing with her a Bachelor of Laws and a Bachelor of Communication (Journalism) from the University of Newcastle. She's passionate about delivering easy to digest information and content relevant to her key audiences and stakeholders.