The digital recording of customer information will become mandatory for a number of NSW businesses, including auction houses, later this month — meaning QR codes are practically compulsory.
A statement from the NSW Minister for Customer Service, Victor Dominello, said digital registration, such as the use of QR codes, is fast, accurate and will give customers more confidence during the pandemic.
While the new mandatory requirements do not impact the wider real estate profession at this point in time, Mr Dominello said "any business that is serious about safety should be using digital registration, such as a QR code or other method of capturing contact details electronically".
Business premises that are used for auction houses, other than clearing houses, are covered by the rule change, which comes into play on 23 November.
Under the new rules, businesses required to record contact details of customers via QR codes or other electronic forms and do not, will face strict penalties.
The state government announcement comes after REB reported just last week on a discussion between What's Making Headlines hosts Phil Tarrant and Tom Panos, alongside AgentBox's David Bliss, around the advent of QR codes in the real estate industry. 
At the time, Mr Panos considered "the good thing about QR codes or any other technology, you simply don't have to worry about sanitising!"
With individuals now seeing a QR code and knowing that they need to scan in to abide by COVID-19 restriction measures, Mr Bliss said they can offer real estate agents a new avenue for data capture.
"At auctions, you're generally busy racing around, you're trying to organise the vendor. You've got all these people coming in. And no one is capturing all the details there. Whereas, put a QR code on the wall, everyone can scan themselves in, and suddenly, you're getting all of this data," he said.
The restrictions are a response by the state government to what it called "complacency", after inspectors revealed a small number of businesses have had inadequate check-in systems.
Mr Dominello said New South Wales businesses "have to move away from the walk-in culture to the check-in culture".
"This is about building resilience as we continue to open up as safely as possible heading into summer," he said.
The minister is "strongly encouraging" of businesses to download a free NSW government QR code, and is also urging customers to use the COVID-safe check-in available through the Service NSW app.
It was explained that scanning a NSW government QR code captures the business name, address and the customer's contact details, with collected information securely stored for 28 days for the sole purpose of contact tracing.
This information can be instantly accessed by NSW Health in the event of an outbreak, but will be destroyed after 28 days.
For customers who do not have access to a smartphone, venues are encouraged to record their contact details and time of entry using a digital device.
Mr Dominello stressed that "we can't respond to a pandemic with paper".
"We must be fast and precise and digital is the best way forward," the minister said.
Hospitality venues, function centres, funeral homes, drive-in cinemas, recreation facilities, and hairdressing salons are among the venues impacted by the new laws. 
ABOUT THE AUTHOR
---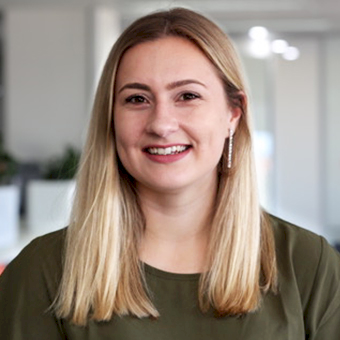 Grace is a journalist across Momentum property and investment brands. Grace joined Momentum Media in 2018, bringing with her a Bachelor of Laws and a Bachelor of Communication (Journalism) from the University of Newcastle. She's passionate about delivering easy to digest information and content relevant to her key audiences and stakeholders.