Without a full dataset, it's safe to say that real estate businesses aren't able to gain proper business insights, according to a data management expert.
ListOnce director Matt Webster has told REB that while there's so much data moving around in what is known as the "ecosystem" of a real estate group, he has argued that trying to draw conclusions for a business plan and marketing purposes without a full dataset is "problematic".
It's led him to emphasise the importance of agencies and real estate groups more effectively aggregating and utilising their data.
Mr Webster began by comparing the concept of a "data lake" with that of a "data warehouse".
While a data lake "is basically just a repository of data in a natural or raw format", the director clarified that a data warehouse "is much more structured and usually has an interface with reporting capability".
While most agencies will have a business intelligence (BI) system, which Mr Webster said is "really good at doing the fancy crunching of data and analytics needed for business intelligence", he did flag two reasons as to why it may not be as much use to a business as it seems.
The first is, if there is not the right volume of data flowing into the system, where a business does not have the capacity to capture and aggregate all of the data from its network.
Secondly, Mr Webster flagged the quality of data as an important concern, questioning "how clean and reliable is the data?"
"That's a perennial problem," the director considered, stating that this comes back quite often to how the data is actually entered into the system.
The data management expert has acknowledged that "there's whole different levels of understanding and/or appreciation" of data by both ends of the real estate business spectrum, from standalone real estate agencies to groups.
For groups, it becomes all the more difficult to navigate data where they are using "different CRMs and different property management providers and even perhaps different web developers with different websites".
Mr Webster said "you can start to see the complexity that comes in to try and get control of your data centrally for the benefit of the head office — and ultimately for the benefit of each office and each agent".
But it's not just an issue that's facing the larger organisations.
Especially for smaller agencies and businesses, he said it's not their fault that they don't understand it "because they haven't got the resources to really look into it".
Even with all the tools at an agent's disposal, Mr Webster conceded "we're only scratching the surface with data management".
He urges agents and business owners to "take the time to learn as much as they can from various suppliers", explaining that it will give businesses a good foundation of information from different suppliers working across the data management and space.
All in all, a key takeaway from Mr Webster's perspective is that "the bigger and more accurate the dataset you have, the better it is to then do your analytics, which then flows into your business planning and marketing".
"We're just starting to see now groups accelerate ahead based on the better management of data — and utilisation of that data for business intelligence," he pointed out.
At the end of the day, better business intelligence leads to better lead generation.
"Which is what it's all about for agents," the director concluded.
ABOUT THE AUTHOR
---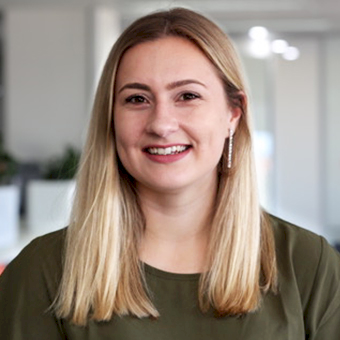 Grace is a journalist across Momentum property and investment brands. Grace joined Momentum Media in 2018, bringing with her a Bachelor of Laws and a Bachelor of Communication (Journalism) from the University of Newcastle. She's passionate about delivering easy to digest information and content relevant to her key audiences and stakeholders.