For a real estate agent or property manager operating in 2021, is there more value to be unlocked by being high-touch or high-tech?
A recent discussion between REB executive editor Phil Tarrant, REB head coach and trainer Tom Panos, and the head of Securexchange, Lee Bailie, saw the trio reflect on the question: What is the modern agent?   
Against the backdrop of Sydney Harbour, Mr Tarrant began: "COVID-19 has been the true enabler for shaping the acceleration of change in real estate."
He said: What we've found out is it's okay to work from home now, it's okay to have flexibility, it's okay to do all of this stuff if you are leveraged with digital connectivity."
From his perspective, digital technology has augmented the role of agents and property managers alike "to do a better job".
But he does consider that the agent of today "isn't necessarily going to be the high-performing agent of tomorrow".
Mr Bailie has seen first-hand that change "is a challenge — for any of us".
He said: "You try something once, you go 'it actually worked'; you try it the second time and it doesn't work the way you thought it was going to."
But he said the reality facing agents and business owners alike in any industry in 2021 is that "you have to have the ability to offer flexibility".
Noting that there's still certainly a place for the high-touch method, especially where it brings local knowledge into a transaction, he emphasised that local knowledge is "imperative in relationships".
This is where digital solutions come in, which can "bring that flexibility to agents" depending on the individual needs of each client.
According to Mr Panos, the intention and the plan of the modern agent philosophy brings together "the best of high-touch — the old world — and high tech — the new world".
He argues that there's two kinds of agents that have been operating in the marketplace: "You've got these traditional agents that have been following a model and they do well. There's no question about it. They do well using the model that they've got."
But he went on to say that, all of a sudden, in the last year, he's seen so many agents asking questions of digital solutions and their capacity to improve an agent's performance.
"People are grappling with it," he conceded.
Can everyone be a modern agent?
The real estate trainer conceded that "technology is the sort of thing that people don't know what they don't know", which led Mr Tarrant to consider the "modern agent" as simply a working title, given the speed in which change can occur — like what has occurred over the last year — and what's still likely to come.
Conceding that there's likely agents out there who are still using filing cabinets or desktop and server-based CRMs, the executive editor of REB then posed the question to Mr Panos: "Can everyone be a modern agent?"
Mr Panos replied: "I don't think they can.
"I think there's a group of people that will never give it a go — they'll just sit there and they'll say, 'Man, this is doing my head in'."
He expressed that people need to accept that there is a subset of the population "that will probably say, 'I got through this far in my real estate career. I'm not in the mood to actually do anything different'."
Highlighting three types of intelligence, Mr Panos noted IQ, EQ and TQ — the third one being "technology quotient".
The trainer said that for anyone that considers themselves to be coachable, they can definitely become a modern agent.
"But there's a large group of people that aren't coachable," he added.
According to Mr Tarrant, while technology is a great thing, "it is only as good as the human that uses it".
ABOUT THE AUTHOR
---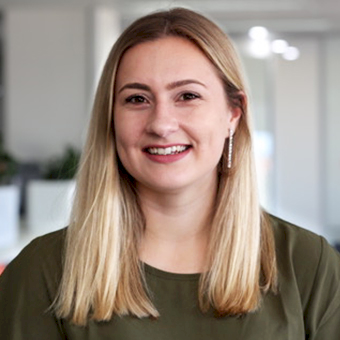 Grace is a journalist across Momentum property and investment brands. Grace joined Momentum Media in 2018, bringing with her a Bachelor of Laws and a Bachelor of Communication (Journalism) from the University of Newcastle. She's passionate about delivering easy to digest information and content relevant to her key audiences and stakeholders.