An Australian real estate website and marketing agency has struck up "one of the region's largest web development projects" with an international network.
Website Blue has revealed the brand-new project, which will cover the development of 2,000-plus domains for Harcourts International.
According to an ASX announcement from the PropTech Group, this partnership includes a fee for the initial website development as well as a 12-month subscription for hosting, maintenance and support of all the domains.
Website Blue has noted Harcourts International as serving a global audience — and attracting more than one million monthly web visitors, with franchise offices across South Africa, USA, Canada, China, Indonesia and Mexico.
It's been reported that the new website development project will "future-proof lead generation for business owners, agents and property managers and will aggregate Harcourts' global traffic across approximately 2,000 individual domains and sub-domains".
Weighing in on the new relationship, which has been dubbed "one of the region's largest real estate agency web development projects", the chief operating officer at Website Blue, Luke Thomas, said they are "delighted to be partnering with Harcourts on this major project to deliver a global, market-leading web presence".
"For many years, the Harcourts brand has significantly invested in technology and innovation," Mr Thomas said.
He outlined that "the new Harcourts infrastructure will be developed using the Website Blue industry-leading property engine".
"This ensures Harcourts will maintain its cutting-edge position in the industry, enjoying advanced, intuitive integrations directly into leading property technologies," he added.
Harcourts International CEO Steve Caradoc-Davies said "the online world is thriving, with many of our potential clients and partners starting their real estate journey online — whether buyer, seller, landlord, tenant, agent or potential franchisee".
From his perspective, the partnership with Website Blue "sees the reimagining of our websites, providing an industry-leading experience that will help us dominate the online space with a voice that few of our competitors have been able to accomplish".
PropTech Group managing director and CEO Joe Hanna has also expressed his delight at the expansion of the partnership with Harcourts.
"The fact that Website Blue were able to secure the competitive pitch for the Harcourts International Group of global sites is testament to the depth and expertise of the team," he commented.
With Website Blue being a part of the PropTech Group, Mr Hanna explained that websites developed via Website Blue "are all deeply integrated with VaultRE".
VaultRE was recently endorsed as Harcourt's exclusive sales CRM across Australia and New Zealand.
"This two-way syncing and exchange of data enables advanced analytics and behavioural insights, which can be applied in several ways to enhance the quality of CRM data," the CEO said.
"The PropTech Group is currently utilising this data to consistently innovate and provide better, holistic solutions within the real estate space."
ABOUT THE AUTHOR
---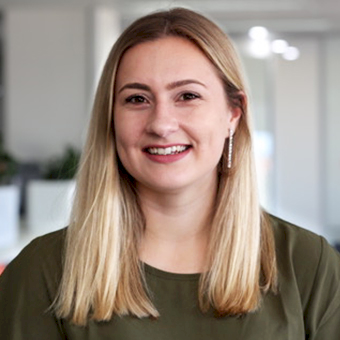 Grace is a journalist across Momentum property and investment brands. Grace joined Momentum Media in 2018, bringing with her a Bachelor of Laws and a Bachelor of Communication (Journalism) from the University of Newcastle. She's passionate about delivering easy to digest information and content relevant to her key audiences and stakeholders.