A new property app is set to provide buyers the opportunity to secure properties with as little as $10,000 as a deposit.
Coposit is launching in November with the aim of helping thousands of buyers get into the property market faster by slashing the time taken to save for a deposit while working with developers and real estate agents to facilitate sales.
Chris Ferris is the CEO of Coposit and said the offering "has been years in the making".
"We could see how increasingly difficult it is becoming for people to get into the property market, especially in Sydney where real estate prices have been dramatically rising."
Outlining the product's features, Coposit revealed that the app would present potential purchasers with a holistic offering: To browse property listings, submit property inquiries, pay and manage their deposits, and even exchange contracts digitally.
According to a statement, it enables buyers to purchase a property with as little as $10,000 in savings and pay the remainder of the deposit over weekly payments, called "coposits" with no interest or fees.
While Coposit's initial focus will be in NSW, it has revealed an intention to go nationwide, starting with Victoria, Queensland, and ACT.
Mr Ferris has identified millennials as a key target demographic for Coposit, but it's not the only sector set to benefit.
Coposit also expects to appeal to a diverse range of home owners and investors seeking to manage their cash flow and debt exposure.
Mr Ferris has credited his own background in development as aiding in the app's formulation, bringing a "comprehensive understanding of the symbiotic needs of developers, financiers, and real estate agents" to the concept.
The CEO considers all of these parties as "integral in the sales process".
"With our property development background, we know where the pain points are for developers in the sales process and issues around pre-commitment levels and project finance," Mr Ferris highlighted.
"At the same time, we saw an untapped opportunity that exists in the wait time for buyers, particularly while new homes and apartments are being constructed. Currently, deposits are paid upfront and sit in a trust account pending settlement, which could be years away. This period of time lends itself ideally to buyers effectively paying off their deposit," he said.
While the official launch is not until November, Mr Ferris has indicated that early developer feedback around Coposit has been "extremely positive".
According to the CEO, "it does the heavy lifting and makes the sales process fast and easy", offering all relevant sales data and analytics in real-time to agents and developers alike.
Coposit was initially trialled at Civic Properties' The Hills Village in Sydney's western suburb Seven Hills, where 74 of 97 apartments were sold using the app in just under five months of the trial's inception.
It highlighted that 78 per cent of buyers elected to make weekly coposits, while 23 per cent of buyers reported that they would not have been able to purchase were it not for the app.
ABOUT THE AUTHOR
---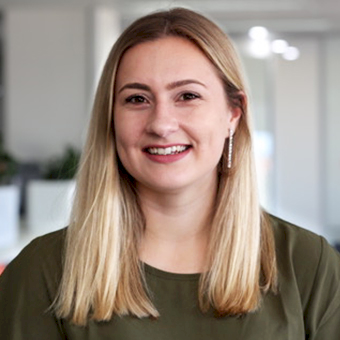 Grace is a journalist across Momentum property and investment brands. Grace joined Momentum Media in 2018, bringing with her a Bachelor of Laws and a Bachelor of Communication (Journalism) from the University of Newcastle. She's passionate about delivering easy to digest information and content relevant to her key audiences and stakeholders.