Promoted by Realbase.
Start engaging with your clients using intuitive, interactive & informative proposals that win listings and help you to build an audience.
We love to make your lives easier. So, we keep on looking for ways to improve Engage to provide an even better experience whilst saving you time to win more listings.
Here are the latest updates:
1. Time-saving 
With Engage, you can now save an average 25 minutes per proposal so you can spend less time preparing digital proposals and focus more on doing what you do best, which is building relationships.
2. Simpler way to edit/create proposals 
Users can now build and edit digital templates easier and faster. 
3. Events Calendar
We have now added a new and improved calendar. It's a no-brainer to include a calendar to your proposal because it can be used as a closing technique.
4. Ability to create and share multiple links 
Need to share to more than one person? No problem! You can easily create and share multiple trackable links of your digital proposal.
5. Track unique views 
Since you are now able to send multiple links, we also updated our tracking system. You can now track unique views per link of your digital proposal.
6. Better Data/Analytics/Reporting 
Engage will start tracking the data as soon as your proposal is opened. We help you track:
-how many times a proposal has been opened
-how long a proposal has been viewed
-how far it's been read through for each session. 
We also include any links that have been clicked on and any documents that have been downloaded, including the marketing quote. These analytics provide you with the tools to have more intelligent, data-driven conversations with your prospective vendors.
7. Customise your own templates (specific to brand and/or users)
Now you have more flexibility to control your templates and incorporate your branding.
8. Updated template library/themes 
We have added some new fresh designs in the template library so you have more designs and templates to choose from.
9. Integrated with major CRMs & data providers 
10. Unlimited number of users and proposals included in subscription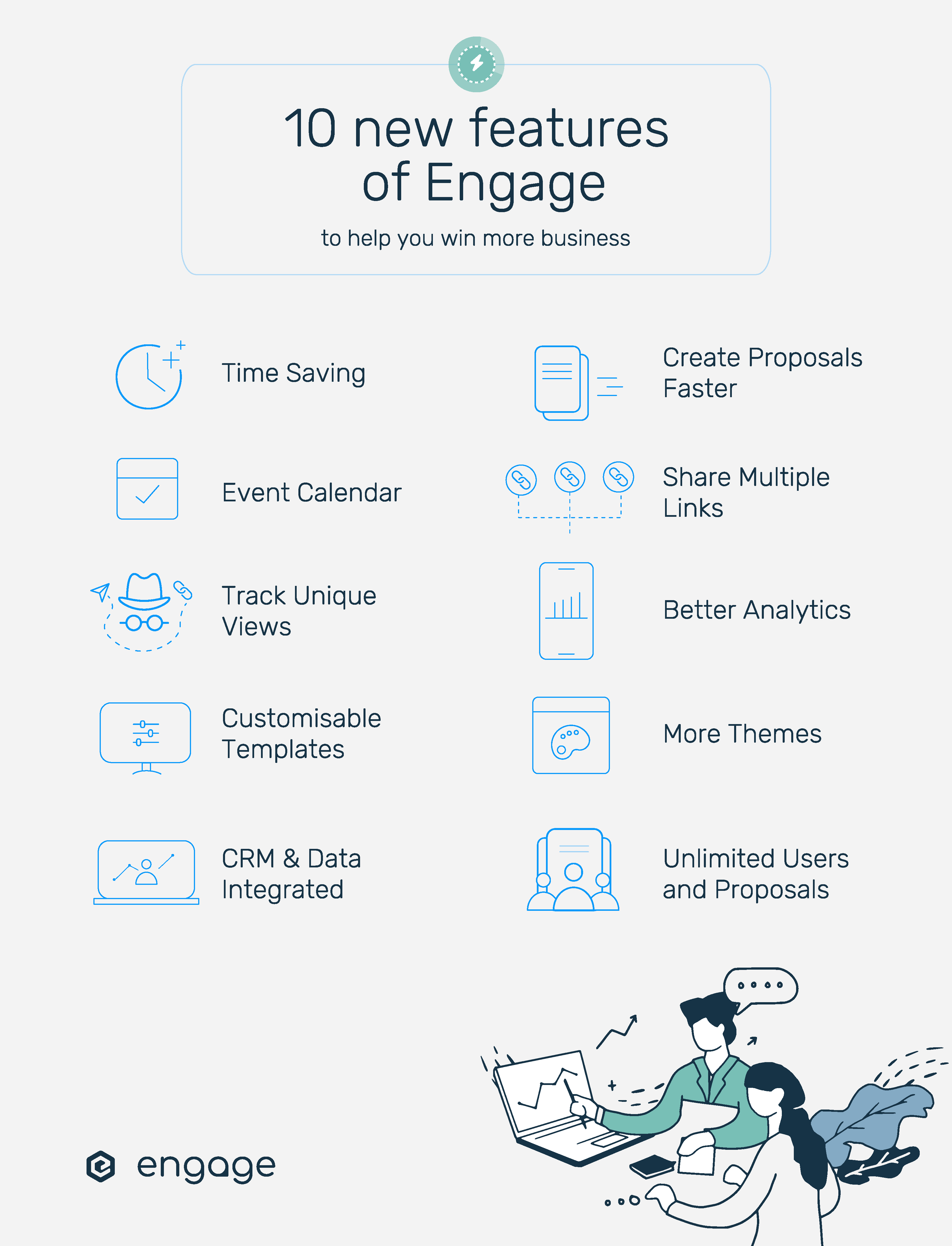 Everything else you might already know and love about Engage is still there, ready and waiting for you. Contact us today!