While a digital presence is all but a necessity in 2022, business owners and agents are being warned to avoid scammers in their pursuit of new websites, photography, SEO services and social media assistance.
Navii has highlighted a number of "red flags" that business owners should steer clear of when looking to employ any online marketing specialist.
"Whether you're in the market for a new website, need new professional photos taken or need someone to manage your Instagram account, you need to feel confident that you are spending your money wisely," Navii instructed.
Pointing out a number of red flags for business owners who are looking to utilise the services of digital and online services professionals, the tech innovation group said people need to be wary of whether a so-called expert is a "genuine specialist".
"These so-called experts will scam you out of your time and money and do little if anything for the visibility of your business online," it warned.
Such an expert "does not have your best interests at heart or is just not well suited to your business".
It was also highlighted that "some of the people who claim to be experts in digital marketing rely on the fact that the business owners they are trying to persuade have little knowledge of the topic themselves".
To avoid poor-quality work and scams, business owners and agents are advised that "being informed of the best practices in website management, SEO, social media strategy and any other realm of digital marketing will empower you to identify a fake sales pitch".
"Even if you don't get to the level of being able to manage it all in-house, understanding the processes and terminology will give you more control over the way a project is handled by any supplier you choose to work with," it added.
Here are the red flags Navii warns you to look out for:
Promises
First of all, the digital professional or business provider makes promises about their capabilities that seem too good to be true.
Cold contact
Navii says it's a red flag where the initial contact is unsolicited – either through a cold email or message.
As well as raising the alarm where such messages come from Gmail or Hotmail accounts, it's warned business owners to be extra wary when the message has spelling or grammar mistakes – a trick "sometimes used by scammers to get through spam and junk filters undetected".
Costs
According to Navii, online and digital service professionals would not usually offer extremely high or extremely low prices – and this could be a sign of a scammer at work.
Personal service
It's not ideal for anyone procuring services to be working with a provider who makes "little to no effort to get to know your business, your customers, your audience and the purpose of the project".
Portfolio
The red flag warning extends to when a digital professional vying for your work has no portfolio.
It's just as much of an issue where a professional does have a portfolio, but it features clients "dramatically different" to your business, or all the work is "one-tone" – and cannot be separated by appearance, design, or personality.
According to Navii, "this suggests they work only according to their own style and will not adjust to meet the needs of individual clients like you".
ABOUT THE AUTHOR
---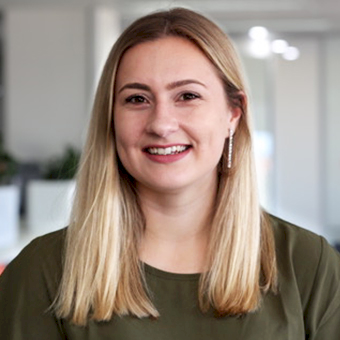 Grace is a journalist across Momentum property and investment brands. Grace joined Momentum Media in 2018, bringing with her a Bachelor of Laws and a Bachelor of Communication (Journalism) from the University of Newcastle. She's passionate about delivering easy to digest information and content relevant to her key audiences and stakeholders.