A landmark new deal has seen Real Estate Industry Partners (REIP) enter into a joint venture with data powerhouse Valocity.
REB can exclusively reveal that the new partnership will enable the launch of REIP Nexus, a joint venture between the industry body and the tech company, which will have the power to provide the entire Australian real estate industry with real-time property data and comparative market analysis (CMA) capabilities.
REIP chief executive Sadhana Smiles said the sector has an opportunity now to get together and "move our industry forward", especially considering that real estate pumps "trillions of dollars" through the Australian economy.

With the organisation representing more than 50 per cent of the industry, Ms Smiles shared that the REIP had "always wanted to partner with a protech that has significant experience to bring game changing best of breed products to market".
"With Valocity we have that. They have been in this game for over seven years and it is now time for us to together give the real estate industry a product that will empower agents and provide transparent and most up to date data for clients."
"If we underpin the Australian economy in terms of dollars, we need to be able to underpin the Australian economy in terms of data," she argued, highlighting that the sector is one that won't only benefit from data on an individual business level – but also on an industry-wide level.
"If we look at it from those lenses, it puts us in a really unique place, it puts us in a very competitive space," she continued.
For the CEO, who took on the REIP executive role 18 months ago, focusing on data felt like "the most valuable way for us to give back to the industry – and to give control back to the industry".
Indeed, the main objectives of the REIP organisation centre around industry collaboration, national marketing, industry data and proptech, office profitability, and professional standards and wellbeing.
It touts more than half of Australia's real estate industry as members, with Place, PRD, Ray White, Coronis, BarryPlant, WebIT, Raine & Horne, Harcourts, Century 21, RE/MAX, and Belle Property/Hockingstuart represented on the board.
When Valocity founder and CEO Carmen Vicelich was approached about potentially partnering with REIP, her company was "already digitising the property ecosystem".
"Our passion and our vision was always to streamline the property decision process, to bring the most up-to-date information, and deliver in the most seamless way to make it as easy as possible for all the participants in the ecosystem," Ms Vicelich said.  
"You have to do that because the future is here and customer expectations are for a digital, seamless experience – and you can only do that with technology and data."
Valocity is already deeply entrenched in the valuation and mortgage lending space, digitally connecting lenders, brokers and consumers, across the banking, valuations, and broking spheres. 
Working across Australia, New Zealand, India, and Singapore, customers domestically include ING and the Commonwealth Bank of Australia, while 90 per cent of New Zealand lenders are connected via the platform.  
While already working with "some of the large Australian franchisor groups", Ms Vicelich said there had been a key part missing until REIP kicked off discussions around the potential for a data-centric product.
Calling the new partnership "absolutely game changing", the tech CEO sees huge power in "bringing together industry data so that everybody has that advantage".
"If you've got your own individual data on an Excel spreadsheet in your branch, no matter how good you are, you're not going to be as good as the power of us by bringing that all together and importantly, delivering it at a relevant moment.
"Being able to make the best decision with the latest data is just so valuable for the homeowner, the home buyer, the whole ecosystem, whether it's the lender, the valuer, the real estate agent.
"For so long agents were capturing this, but not able to leverage it," she conceded.
"And so the technology's going to put it in the hands to enable everybody to make the best decision. And I think that's just so game changing."
The service will soon become available to all members of the REIP network, which is free to join, and which more than 50 per cent of the industry is already aligned with.
For Ms Smiles, the process of giving ownership of data back to agents is going to be "a hell of a ride", given it's the first time the industry has worked collaboratively on such an initiative.
"We've got the best product, we've got a great partnership, we've got great collaboration with the industry and we are talking to the industry all the time about how do we get better all the time.
"You can't fail when you've got those as an ingredient," she shared.
ABOUT THE AUTHOR
---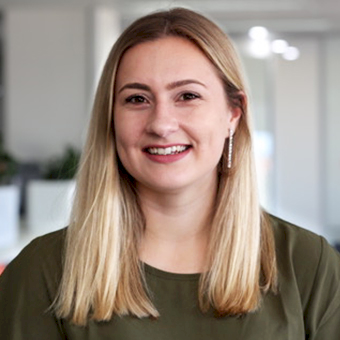 Grace is a journalist across Momentum property and investment brands. Grace joined Momentum Media in 2018, bringing with her a Bachelor of Laws and a Bachelor of Communication (Journalism) from the University of Newcastle. She's passionate about delivering easy to digest information and content relevant to her key audiences and stakeholders.