There is absolutely no doubt the future internet is one where mobile plays an ever increasing and important role. Read any IT news article on consumer consumption of web and e-commerce sites and you'll soon agree that we're in the midst of a global trend towards an internet that is primarily consumed from our smart devices.
Our internet world is being "app-ified" at an amazing rate. Tech giants like Apple, Google, Microsoft and Amazon are all providing app and cloud platforms that are enabling us all to consume more, play more and do more than ever before on our mobile devices.
Here in Australia we're leading the charge for more digitally-directed lives. Australians have always been early adopters of technology. With an estimated 30.2 million active sims, there are now more mobile devices than there are people, which of course shows that some of us are now consuming the internet on multiple mobile devices.
The thing that traditionally held me back from committing to this brave new 'mobile-only' world was that unsure feeling that I still could do my "real job" from just a mobile device. I would still have to resort to using my PC/laptop to do the heavy lifting.
Today, as the mobile market in Australia matures, we are finally beginning to see the business app category come of age. Like the gaming category before them, there are now business apps emerging that show true ingenuity and innovation. These new business apps possess a 'business utility' that save time and effort and may potentially change the way we conduct digital business.
I have a folder on my iPhone labelled 'Experimental'. It's not uncommon for me to have between five and 10 apps all from different vendors, (usually variations on a theme) that I'm testing at the same time. I do it for three reasons. Firstly because I'm a nerd and I want to choose the app that's the most use to me personally. Secondly, because taking the time to discover apps is actually fun and relaxing for me, and thirdly, because in my line of work I often need to work out how apps may be applied by real estate and finance industry professionals everywhere.
Over the next few weeks I will write about the mobile apps that I use in my every day activities that just make me more efficient and help me to work smarter and more efficiently. These are the apps that I believe have a true utility that can help real estate agents, mortgage brokers, valuers, developers and financial planners everywhere on a day-to-day basis to work smarter and be more efficient.
Dragon Dictation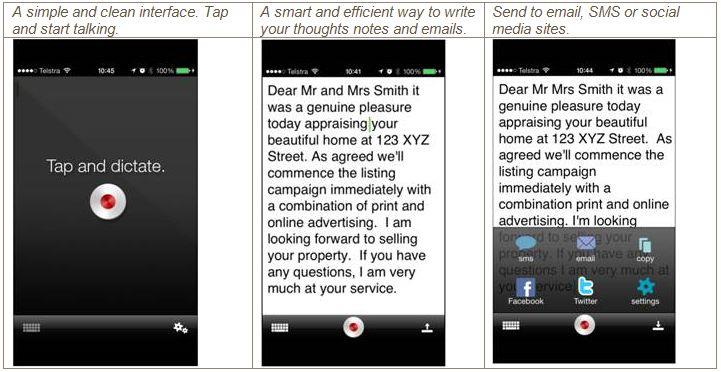 I remember when I was an excited teenager trying the PC version of Dragon for the first time on my x386 PC.  I had to firstly train it for hours on end to recognise my voice commands. To be honest it was clumsy and painful. Fast forward 27 years and the Dragon Dictation app is elegant, simple and fun to use.
Just as Apple's 'Siri' has millions of users talking to her on their devices every single day, so too does Dragon Dictation. With all those speech patterns being automatically databased on their servers, it's just so incredibly easy nowadays for a new comer to install the app, start talking and it really does recognise what you're saying. 
My proof point is this article was written by me talking into my phone and Dragon Dictation transcribing what I'm saying. Yes it does get the occasional word wrong. To mitigate I tend to speak a sentence at a time, stopping the recording at the end of each sentence. Once it's all transcribed, I then turn on the keyboard and quickly add in carriage returns and the occasional full stop.
With a little practice it becomes second nature and very quick to use. It is faster and more accurate than my thumbs typing on a small glass screen. The other thing to remember is, the more you use it, the more it learns from you. It just keeps getting better and better.
So how can this work for an industry professional like you? Well it's just a huge time saver. When used correctly it is a pocket aid that helps you to present a polished, professional image.
Please indulge me and try this simple test just once.
After completing your next vendor listing presentation, sit in your car for three minutes and dictate a letter to your vendor using Dragon Dictation on your iPhone or iPad. It should probably go something like this:
"Dear Mr and Mrs Smith,
It was a genuine pleasure today appraising your beautiful home at 123 XYZ Street.
As agreed we will commence the listing campaign immediately with a combination of print and online advertising.
I am looking forward to selling your property. If you have any questions, I am very much at your service."
And that's it.  Use the 'Send' function to either send your transcribed prose to an email or SMS or to your Facebook or Twitter.
Pros
Cons

Quick and simple to get started.
It can be used straight away with a high degree of accuracy.

It's a fast learner that improves the more you use it.

It will make the occasional mistake, particularly punctuation and detecting the
end of a sentence. To mitigate, record and speak one sentence at a time.
Don't let others use your app. It will quickly
destroy what it has learned of your voice
patterns.

It is an IOS iPhone and iPad app. It is a genuine shame there's no Android app released.
ABOUT THE AUTHOR
---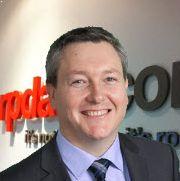 Lee Wade is tasked with creating new and innovative products to meet the needs of the mortgage finance and real estate industries.
He was instrumental in the foundation of the PowerUp ISP business in the late 1990s and also helped found the WebCentral web hosting business. With a deep expertise in software-as-a-service (or cloud computing), Lee has been designing and building products for small-to-medium enterprise (SME) businesses for the past 14 years.
Lee has a mixed background in both print journalism and technology, making him both a self-professed technology geek and also a passionate evangelist for technology which transforms and simplifies the customer experience.
For CoreLogic RP Data, Lee focuses on new product user experience and is charged with designing and managing the company's mobile products for brokers and agents.