Social media is here to stay. Now more than ever, real estate agents need to be using it correctly to grow their following, gain trust and loyalty, and grow their business.
When researching which agent to go with, prospects today use social media to help assess which agents they can trust to sell their house or manage their investment property.
So it is in an agent's best interest to have an outstanding and impressive social presence that will ultimately work in building this trust and loyalty.
According to an authentic brands study in 2014, Cohn Wolfe determined that "63 per cent of global consumers would buy from a company they consider to be authentic, over and above competitors". This indicates that improving authenticity in social media could have a significant impact on your engagement and ultimately lead generation.
Here are some tips to help you:
1. Know what makes you different
What are you known for in your area? What is the main reason your clients choose you? Where is your knowledge the strongest? Once you can answer these questions, you can base all your social media conversations and collateral around this.
You may find it helpful to choose three brand differentiators that can guide all your social media activity. Here are some examples of some personal brands tags that could be a great online foundation:
Technology, Gen X, trends
City living, lifestyle, luxury
Baby boomers, downsizing, country living
Spend some time identifying and clarifying your personal brand and seeing how it fits into your agency company brand.
2. Don't just be a news feed
If your customers and prospects want your latest listings or agency news, they will subscribe to your agency newsletter.
When using social media, act like you would in a social situation. Ask questions and listen to the responses. Talk about a range of things customers and prospects like.
Are they interested in renovating? Or investing? Are they keen to know how median prices are tracking? Or what's going to happen with interest rates? Do they want to know about local schools, shops and restaurants?
Be the most interesting agent to talk to online, answer questions, and you will see your business grow.
3. Your online should match your offline
You have heard the horror stories with online dating, when the online and offline doesn't match up. This can happen with real estate agents, too.
First, you should have a recent head-shot photo so people can recognise you. Share your hobbies or interests that align with those of your customers.
Then inject some of your personality into your social media: blogs, videos, Facebook posts and tweets. If humour is your strength, you can use that. You should write how you speak, always be respectful and polite  – and use correct spelling and grammar.
Don't try to be someone you are not. When a potential customer sees you online, you want to match that experience when you come face-to-face.
ABOUT THE AUTHOR
---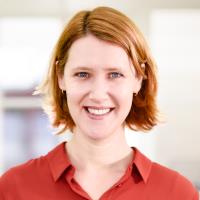 Fiona McEachran is the marketing manager for the Console range of real estate software at Onthehouse Holdings.
Fiona manages the Console team, driving the brand strategy and implementing the marketing tactics using both web and traditional advertising, promotions, events and campaigns.
Fiona has over 10 years' B2B and B2C marketing experience, and has led successful campaigns encompassing planning, website development, email marketing, SEO, SEM, direct mail, e-newsletters and more.
Console is the leading software provider for the real estate industry – offering property management, sales, CRM and website solutions.