It's strange to think that BNPL services have only been around for the last six or seven years. One of the most notable success stories in that time is Afterpay, which has managed to reach pop-culture status, and boasts more than 5 million account holders in Australia.
It's clear that consumers had been experiencing pain points around more traditional forms of credit, whether they knew it or not, and whether that was through finance arrangements for goods or services, credit cards or personal loans. 
In REB's conversations with a number of real estate-targeted BNPL-style offerings, it became clear that similar cash flow issues facing consumers on smaller purchases are just as common when consumers are dealing with much larger assets — like their property.  
According to CampaignAgent's co-founder, Seth Watts, one such provider in the space, "vendor paid advertising had been a pain point for agents for years".
He argues that "the drive for larger and more sophisticated advertising put enormous pressure on the cash flows of principals who allowed payment on settlement or, for agencies that required payment up front, it put enormous pressure on agents to collect funds from vendors".
From his perspective, it means agents who do allow payment on settlement are effectively "acting like a bank for vendors" and dealing with a lot of collections risk.
On the other hand, agents who required payment up front were putting stress on vendors, who were then trying to reduce marketing spend.
He sums up: "The market was driving bad outcomes for everyone."
ListReady is another BNPL operating in the space — and it was spurred into the space after its parent company, MoneyMe, had seen customers applying for credit to cover expenses related to maintaining and selling their homes.
According to the brand's national sales manager, Julian Antonescu, they noticed today's retail consumers as favouring lower-commitment buy now, pay later (BNPL) solutions.
"We observed the real estate sector lacked an efficient payment solution that could fulfil these needs and expectations," he said.
But it wasn't the only factor driving the growth of BNPL: "There was also a clear need for a solution that helped landlords and property managers combat COVID-19 uncertainty, particularly as instances of rental shortfall became more common."
COVID-19 appears to be a recurrent theme that has propelled BNPL solutions into the spotlight.
While part of this definitely stems from innovation and improvements to technology, other lesser-known impacts from COVID-19 go some way in explaining the meteoric rise of BNPL services within the Australian real estate industry, especially over the last year.
Ravi Sharma is the lead banking and payments analyst at GlobalData, and he notes that "the COVID-19 pandemic has not only adversely affected businesses, but also consumers' disposable income".
As a result, he's seen a rise in demand for consumer financing, which has consequently led to BNPL-style services having emerged "as a major short-term borrowing tool for consumers".
"BNPL provides consumers with the flexibility to pay for their purchases at later dates. In addition, unlike traditional credit cards or consumer loans, there is no fee if payments are made on time," Mr Sharma said.
With e-commerce demand set to grow at a compound annual growth rate of 17.6 per cent to more than US$3 trillion by 2023, the analyst is expecting BNPL to massively disrupt markets, well into the future.
A majority of the real estate BNPL players we have talked to all shared experiences as either agents who struggled with cash flow, or vendors who had a poor experience selling their own homes for similar reasons.
Others, like real estate marketing platform Domain, have recognised the success and services of other players, and jumped on the bandwagon, in a bid to stay relevant in an ever more competitive marketplace for property-related services.
According to Domain Group's commercial director, Tony Blamey, the group's move into the BNPL space is part of a broader strategy "to build or align with best-in-class companies".
It hopes to offer "a marketplace of property services for vendors and agents, including digital check-ins, insurance, home loans and now payments", and is renascent of the current need for businesses to continue evolving and adding value to their clients — of which BNPL is just one aspect of.
All in all, it's clear that BNPL services in the real estate industry are only getting started.
The regulation landscape
With the playing field becoming more crowded, it's become clear that both agents and customers are demanding such services.
At the same time that consumers are now benefiting from greater choice and access to services, thanks to innovation and technology, there has been a push for stronger regulation of financial services in Australia.
Back in 2018, Australian financial institutions were rocked by the claims, evidence and reports that came out of Commissioner Hayne's Royal Commission into Misconduct in the Banking, Superannuation and Financial Services Industry.
It's led to very tight restrictions around many aspects of lending, which has been confirmed by a number of reports and inquiries into BNPL services by entities including the Australian Securities and Investments Commission (ASIC) that have taken place since the royal commission.
HD Legal & Advisory partner and lawyer Tanya Delkou says BNPL services working within the real estate sector, like other BNPL providers, have since become highly regulated.
"Essentially, what these pre-sale finance providers are doing is providing credit to the vendor under a credit contract for advertising/staging costs for the sale of their personal residence," she says.
Deemed as a "consumer purpose", Ms Delkou argues such credit providers must have a credit licence, unless they are providing short-term credit — for period of less than 62 days. 
Short-term credit provision comes with its own set of terms and conditions, and has led the lawyer to advise agents to tread with caution: "If the vendor or agent engages with a finance provider that is non-compliant, it exposes them to substantial legal ramifications."
To combat this, the lawyer says: "It is crucial for an agent or vendor to seek independent legal advice prior to obtaining any pre-sale finance to ensure that they are not exposed to breaches of consumer credit laws.
"In saying that, there are many suitable pre-sale finance providers in the industry that do in fact meet compliance standards."
Like anyone accessing financial aid, agents who are looking to engage BNPL providers are well advised to do thorough research and seek advice when selecting a pre-sale finance provider.
The future of BNPL
While regulation of finance is likely to be a hot topic for the foreseeable future, it's not something that is likely to stall growth of the BNPL sector of real estate.
In fact, many of the biggest players in the real estate sector are expectant of such growth, and are actively working to be a part of the future of real estate financing, having expressed a number of reasons why "the future is bright" for the sector here. 
Read more about the rise of BNPL in real estate:
Part 1: The BNPL revolution: What does it mean for real estate?

Part 3: Who's who? Revealing BNPL's biggest real estate players

Part 4: 7 ways agents, vendors and businesses can all benefit from BNPL
Part 5: 5 reasons 'the future is bright' for BNPL
ABOUT THE AUTHOR
---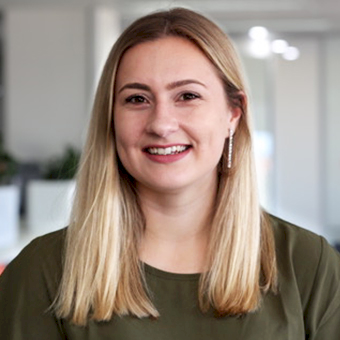 Grace is a journalist across Momentum property and investment brands. Grace joined Momentum Media in 2018, bringing with her a Bachelor of Laws and a Bachelor of Communication (Journalism) from the University of Newcastle. She's passionate about delivering easy to digest information and content relevant to her key audiences and stakeholders.