Showcasing just how diverse the real estate sector's COVID-19 experience has been, a new survey has revealed a very even split across the ways agents have decided to continue working through the pandemic, and will continue to do so, even if restrictions were to completely lift.
The COVID-19 Business Confidence survey, commissioned by REB sister brand MyBusiness, is an ongoing survey of a cross-section of Australian business leaders and employees conducted by research firm Momentum Intelligence.
The survey encourages participants across a range of Momentum Media's professional services brands (accounting, aviation, defence, financial services, law, mortgage and finance broking, and real estate) to take part in an online questionnaire.
Over 2,800 people responded to the survey and were weighted accordingly by industry, serving as a barometer of how businesses, and working Australians, are adapting to the changed working and social environment throughout the COVID-19 pandemic.
Analysis of the survey results has revealed around four major ways in which real estate agents have been working through the COVID-19 crisis.
One in four agents (24 per cent) has been going in to the office as usual for the duration of the crisis, while a similar proportion (26 per cent) has now returned to the office after a stint of working from home.
A further 22 per cent of agents who participated in the research said the COVID-19 crisis saw them working from home for the first time and they are still doing so.
The remaining 28 per cent consider themselves as "long-term WFHers", with life in the home office continuing as it did pre-COVID-19.
It's a more even split across the work location categories than was seen across professionals in each of the other industries surveyed, and showcases a higher proportion of agents stayed in the office than workers did across the legal, accounting, defence and financial sectors.
Across all industries, 18 per cent of respondents said they had always been at the office since the advent of the crisis, with a further 18 per cent having resumed normal office operations after a stint at home.
A higher percentage of people outside of the real estate sector also considered themselves as "long-term WFHers" — at 35 per cent.  
For Momentum Intelligence's head of strategy, Michael Johnson, the "large portion of 'long-term WFHers'" was notable.
Incorporating individuals who have been part-time or full-time working from home before COVID-19, Mr Johnson said this group has "now been joined by a growing community of people seeking more flexible work arrangement from their employers moving forward".  
The insight revealed by attitudes to a "return to work" also formed an interesting part of the research.
For individuals who have been working from home, when posed the question of "when do you expect to start working back from your office again?" (at a minimum 1 day per week), nearly one in five agents indicated they would "never" return to an office-based environment.
A further quarter (26 per cent) of agents revealed they are "not sure" when they will begin office-based activities again.
One-fifth (20 per cent) have already begun at least one day of work back at the office, while the same amount expected to commence office-based operations again within one week.
With the findings highlighting that each respondent is on a different journey back to office life (if at all), Mr Johnson explained that "the common denominator here is that there is a large pool of respondents who are unsure of their future and their timelines for returning to work".
Just under one in 10 agents expects to return to office life at least one day per week within two weeks.
REB has previously revealed that 65 per cent of respondents in the real estate industry have suffered revenue decreases as a result of the pandemic. 
Despite such business challenges, the mental health outlook of real estate agents has improved since the first survey was released in March.
ABOUT THE AUTHOR
---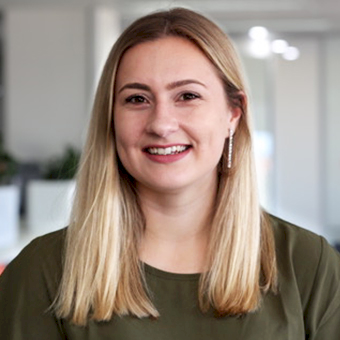 Grace is a journalist across Momentum property and investment brands. Grace joined Momentum Media in 2018, bringing with her a Bachelor of Laws and a Bachelor of Communication (Journalism) from the University of Newcastle. She's passionate about delivering easy to digest information and content relevant to her key audiences and stakeholders.