The first three years were the "breakthrough period" for this Upper North Shore agent, who acknowledges he had a tough job ahead of him to crack into the high-performance region.
In conversation with REB, Chadwick Real Estate sales consultant Ray Talati acknowledged "it was just so hard to get in" to the ultra-competitive Sydney marketplace – but his long-term play has made all the difference.  
"Truth is, I've seen so many people come in and out of this industry, like a revolving door, because they don't have the patience to stick out the tough times," he reflected.
"You think you can walk in and make six figures in your first year – very rarely can you do that – unless you have some sort of prior experience."
Mr Talati said the first three years are "just about getting to know" potential clients through pounding the pavement and cold calling.
"No one knew who Ray Talati was!" he opined.
The old agent's adage that "frequency builds trust" rings especially true for Mr Talati, who explains that he took the attitude that while no one did know who he was, he could make sure they would know who he was.
"I just kept making people know me."
He tells the story of a recent sale "for a guy named Jeff", who was one of the consultant's first door knocks back in March 2015: "I [had] just kept in touch with him ever since. Every week, every month, consistently for six years, and I got his business, and I just had a new street record for him."
"It was that whole long-term approach that was one of my really big differences," he reflected.
Recognising that it was hard for the first few years, Mr Talati does acknowledge that the approach he had taken to the real estate game in his early days had worked especially well for him since he was so young when he started.  
"At 18, I was living at home. I could afford to not make a lot of money in the first few years, but just invest in a real long-term vision, which is coming together, which is a pretty cool feeling."
That vision, from very early on, was to focus on one suburb – North Turramurra – and just "try and dominate it".
"Get to know everybody in the suburb until everybody knows you, and then just keep in touch with them."
Reiterating that frequency builds trust, Mr Talati revealed that he's gotten to a point now where for the last two years, he's "consistently sold about one in three houses in the suburb – which is really exciting."
So what are those touchpoints he has used?
The sales consultant has credited "a multifaceted approach" to his success.
"The first way to keep them engaged and to actually strike up a relationship was door knocks and phone calls."
He looks back at his time spent door knocking as "really funny".
"I used to have a market report. I can't say how many people used to rip the report out of my hand and slam the door on my face.
"I started writing sample on it in big black writing so no one would take my sample market report anymore. And I just pretty much used the same [script] every time, which is 'we're about to send out the market report, would you prefer to receive it as a hard copy [or] as a soft copy?'
"I wasn't taking no for an answer," he stated.
"It was just: Which way would you prefer to receive it?"
Read more about Ray Talati's rise through the ranks here. 
ABOUT THE AUTHOR
---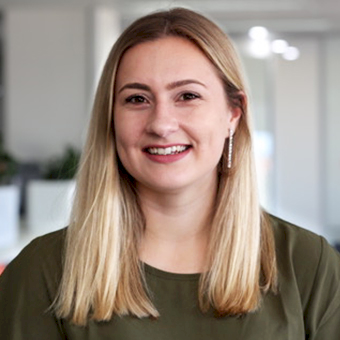 Grace is a journalist across Momentum property and investment brands. Grace joined Momentum Media in 2018, bringing with her a Bachelor of Laws and a Bachelor of Communication (Journalism) from the University of Newcastle. She's passionate about delivering easy to digest information and content relevant to her key audiences and stakeholders.