In many marketplaces around Australia, nervous vendors are asking real estate agents if they think we're heading towards a recession, what interest rates will increase to, and how much property prices will drop by.
I'm not trying to discredit agents when I say these questions are beyond the qualifications of most. Even the most-esteemed economists don't always have the answers (anyone remember the widely held predictions of banks that COVID-19 would smash property prices by 30 per cent?).
It's a difficult position for agents to be in. It's especially difficult for agents who are proposing an auction campaign for their vendors, with general media outlets jumping all over sub-60 per cent clearance rates as a sign that the market is heading for a freefall (never mind the fact that many passed-in properties go on to sell in the week after the auction.)
Agents need to accept that there will always be things that are beyond their control, such as new strains of coronavirus and flu outbreaks, cost-of-living pressures and RBA meetings.
They should, instead, be focusing on what they can control and taking their vendors on that journey.
If you're taking a property to auction, schedule a four-week campaign to reach the widest possible audience. Twelve months ago, an auction campaign could be held over three weeks — sometimes as short as 16 days — and the agent could be confident of securing a pre-auction offer or a result on the day. But being in the midst of an upwards rates cycle, buyer urgency isn't as strong.
On the issue of rising interest rates, it's important for agents to engage with mortgage brokers who have pre-approved clients. With each interest rate rise, the borrowing and bidding capacity of clients decreases. Some buyers will drop out at the reserve price, but new buyers will emerge, having to scale down their buying expectations.
Agents should be going through the attendances of their open homes from six months ago, re-engaging with buyers who were previously priced out of the rising market.
Many of those buyers will be watching on, right now, trying to pick the bottom of the market. That can be a difficult and frustrating exercise.
If buyers are taking a long-term perspective on real estate, they don't need a crystal ball to pinpoint the optimal point in the cycle. Upgrading owner-occupants, especially those who are buying and selling in comparable markets, should understand that there's so much more than a price cycle that influences good buying. When a property comes along that ticks all the boxes for a buyer — the right school catchment, layout, orientation, storage capabilities and more — the price cycle can be less of a deterrent. Agents who can bring these buyers back to the table will sell properties faster and fill their pipelines easier.
Agents should focus on those things they can shape and change, not the variables that are beyond their control.
ABOUT THE AUTHOR
---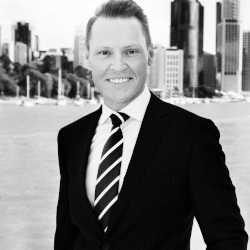 David is responsible for the development of auctions within the LJ Hooker network, as well as coaching LJ Hooker's future captains recruits.