Real Estate Business delivers some key stats on this year's Top 50 Sales Offices ranking and also speaks to industry experts to find out what separates elite businesses from the rest.
Australia's leading offices are using their superior business skills to sell more property and employ more staff than ever before.
According to this year's Top 50 Sales Offices ranking, offices made an average of 388.0 sales during 2013/2014. That marked a 15.2 per cent increase on the 336.9 sales recorded in 2012/2013.
View the Top 50 Sales Offices ranking
Average sales volumes jumped by 20.8 per cent to $245.8 million, while conversion rates climbed from 90.3 per cent to 92.8 per cent.
The offices grew their headcount from an average of 15.0 to 15.8 staff, an increase of 5.3 per cent.
Part of the reason that sales and staffing levels grew so strongly during 2013/2014 is because property prices did as well. However, that only tells half the story.
Australia's eight capital cities finished 2013/2014 with a median price of $545,000, according to CoreLogic RP Data. That same financial year, the average sale price recorded by a Top 50 office was $633,000 – a difference of 16.1 per cent.
So clearly the Top 50 offices are performing at a higher level than Australia's other offices – but why? Real Estate Business talks to three industry experts to find out. 
Non-negotiable targets
Real estate coach Josh Phegan says one of the main things elite offices get right is to focus on their customers rather than their rivals.
He says most agencies fall into the trap of working against their competitors rather than for their customers. The best offices, though, just try to anticipate and exceed their clients' needs.
Mr Phegan says another characteristic of elite offices is that they set clear targets about how many listings and sales their staff need to produce – and then hold them accountable.
"Performance management is probably the biggest issue in estate agency practice in knowing how to have conversations in a go-forward manner that helps people to get past their blockages and achieve their potential," he says.
Non-negotiable targets drive success because they force businesses to concentrate on their most important tasks. Lesser offices, by contrast, will tolerate missing targets, which is why they often get distracted by less important matters, he says.
Mr Phegan says hitting targets demands consistency. He points to one leading Sydney office that films a marketing video every Wednesday at 7.30am and then sends it out every Thursday at 8am.
Top offices also know they need to set long-term plans if they want to reach their goals. That applies to all areas of the business, including such things as staff absences, he says.
"People don't have clarity about their annual leave, whereas in a top office they'll ensure they have a holiday plan 12 months in advance for all of their people," he says. "They'll also make sure everyone takes all their leave every year because they know that if people haven't taken a holiday all year they're probably mentally on holiday." 
Can-do attitude
It's fair to say LJ Hooker knows what an agency needs to do to excel: it had 11 offices on this year's Top 50 list, the most of any franchise.
LJ Hooker's head of residential real estate, Christopher Mourd, says elite offices aren't just good at real estate – they're also good at business.
"The first and most important thing is they tend to be very well-structured and highly disciplined businesses. I think it's fair to say that many of these business owners and the salespeople would be successful no matter what business they were in," he says.
Mr Mourd says top offices make sure their staff are thoroughly trained so they don't have to practice on customers. Many of these offices hang on to their employees for long periods of time, he adds, while the staff themselves usually have great attitudes.
"We often talk about the can-do attitude – that's what clients are looking for. They're really looking for agents who will get up every day and show their property in the best light and have a successful attitude. That does influence buyers and prospective tenants in their decision about which property they're going to select," he says.
Mr Mourd says mentality can help explain the gap between elite and less successful offices. One reason agencies fail to reach their potential is because – deep down – they don't believe they can step up to the next level. That makes them unwilling to step out of their comfort zone and embrace new ideas, he says.
"I think it's the same in real estate offices as it is in sport, as it is in life. It's always about the paradigm shift. People just don't know what they don't know. If they're not already at a level of success, they just don't understand that it's possible," he says.
"Where I've seen people transition to greatness – the transition happens in their head before it happens in their activities on the ground." 
Walk the talk
Barry Plant chief executive Mike McCarthy says the top offices he's encountered have all had excellent leaders who have been able to present a clear vision for their firm, both to staff and business partners. That's something that's missing in lesser offices, he adds.
Another difference is that while elite offices walk the talk, lesser offices often fail to follow through on their plans.
"We have a lot of good businesses that have achieved the sort of results they've achieved through implementation," Mr McCarthy says.
"I think the biggest ingredient missing with most offices that don't get to that elite level is lack of implementation on every aspect of their business plan. That's not to say every bit of the business plan is going to be right every time, but there's no point having a plan unless you implement it."
Mr McCarthy says one reason an office might fail to follow through on its plans is due to lack of outside support, whether from a franchise head office or a business coach.
"If you're an independent, I think you need someone external to the business who keeps you accountable as a business leader," he says.
Another reason some offices fail to step up into the elite category is because they're not willing to do the sheer volume of work required, although Mr McCarthy adds that there's nothing wrong with wanting a better work-life balance.
However, he says he does get annoyed by offices that claim they want to improve but then fail to back up their words with deeds.
"That can be frustrating because they want to get to that next level… and find excuses why someone else has achieved that and they haven't when a lot of it sits in their own control," he says. 
Stars of the future
Nothing stays still forever. What works today may not work tomorrow. That means the agencies in the Top 50 Sales Offices list will have to make changes in the years ahead if they want to maintain their elite standing.
Mr Mourd from LJ Hooker says one thing all real estate businesses will have to deal with in the future is increasing expectations from clients.
"I would say that, generally, the Top 50 offices are already well and truly in that head space and operate in that fashion. The question is what are they going to do next and how will they show leadership for the rest of the industry?" he says.
Mr McCarthy from Barry Plant says agencies will have to combine an old-fashioned focus on relationships with new methods of initiating and nurturing those client contacts.
"The advent of social media in particular means that we now need to be very diligent on how we maintain the relationship in that space, because that's a massively evolving space, particularly for young homeowners," he says.
"Unless the industry embraces that and gets smart at that, that's where the relationship could break down and will certainly differ from what's gone on in the past for real estate."
Real estate coach Josh Phegan says offices that want to be industry leaders in the years ahead won't necessarily need to search around for new ideas – but they will have to be committed to year-on-year consistency.
"A truly successful office is one that can maintain that market share for a long period of time. My measurement of whether it's a great business is whether it can survive regardless of the market conditions, and can maintain strong market penetration for a 10- or 20-year period," he says.
"It's easy to go to a point where you could be a top office for a year because you could do that by reducing fees or being that new, shiny object in the marketplace. But to maintain that for a 20-year period is a completely different story."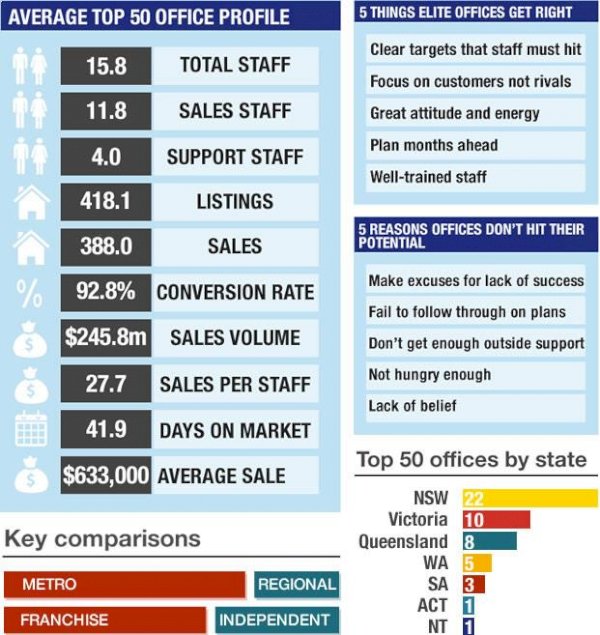 Make sure you never miss an episode by subscribing to us now on iTunes
And dont't forget to leave REB a review!

Listen to other installment of the Real Estate Business Podcast