Every property manager places their safety at risk when they enter a property. However, most property managers do not take precautions to reduce the potential risks they face.
Recently we ran a Facebook post asking for property managers' best tips regarding safety in property management. This list has been compiled from the tips and ideas generated from that post, plus our own from experience, and we thank those who have contributed to this article.
Here are eleven tips to assist you when you're out for appointments and inspections:
1. Use an app when in trouble
Technology has progressed significantly in the last few years and some people suggested using the Daniel Morcombe Help Me app that allows your location to be messaged to selected people, as well as WhatsApp which can let others know your location. Also consider also working with management to use the Find My iPhone app to locate you when in need. However, there are some privacy issues to be worked out here.
2. Know your exits and keep them clear
When conducting an open inspection, use a rubber wedge to keep your exit door open. When people are entering, ensure you follow them in and around the property, but don't let others follow you in or follow behind you. Ensure you know where your exits are at all times. Do not park in the driveway where your escape can be blocked by another car.
3. Trust your 'gut feeling'
If you ever feel uncomfortable about entering a property, don't enter it! If your gut feeling tells you that things do not feel safe, trust it. If you get it wrong and there was nothing to worry about, all you did was make a mistake on the right side of staying safe. But getting it wrong could land in a whole lot of trouble. Many people have ignored their 'gut feel' and wished they'd listened to it in the first place.
4. Regularly check in with the office
When out at an inspection or appointment, why not call or text the office the location you've just entered? If something goes wrong, they know where to start looking.
5. Use a shared electronic diary
Use an electronic diary that is shared with others in your office. Ensure your appointments and their locations are clearly displayed and the correct times entered. Technology makes this really easy these days, and should you be doing a good job, you shouldn't feel your privacy has been infringed upon. Your safety is far more important than that.
6. Attend inspections in pairs
I believe we will see changes over the next few years where inspections will be done in pairs. Not only will this be necessary for safety, but also for credibility should you be accused of something. At least there's a witness. Besides, if you're both doing the inspection together, you will achieve greater efficiency. Should you have any routine inspections you're doubtful of, going in pairs is essential.
7. Using a secret code
If you run into trouble, calling the office and asking if 'Doris' is there, or asking for the 'red folder' can be code words for "I'm in trouble, please send help now".
8. Ask for pets to be restrained
Before conducting your routine inspections, text or email tenants and confirm if they can ensure their pets are restrained, especially medium to large dogs.
9. Speed dial emergency numbers
Have police and other important numbers programmed into your phone under 'favourites'. You'd be surprised by what you cannot think of when you are traumatised, even the most basic information, and having these numbers in speed dial allows you to quickly access them without needing to think too much.
10. 'I just have to go to the car'
If you're at an inspection and inside a property and start to feel uncomfortable, just get out of there. Say something like, "I just need to get something from the car" and leave the location. The importance of any inspection is always secondary to your safety.
11. Take self-defence lessons
Should you get yourself into an extreme safety situation, you need to know how to get out of it. Attending a self-defence course will not only give you the skills you need, but it will make you more confident as well.
ABOUT THE AUTHOR
---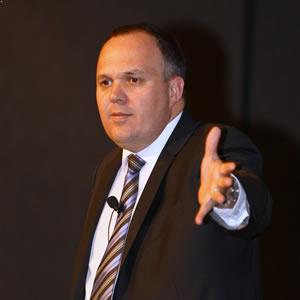 Trainer – LPMA
Darren Hunter is a national and international property management trainer, speaker, consultant and authority on property management fees, and income maximisation strategies all designed to grow your rent roll profit, without extra rent roll growth required.

A consultant and trainer now for over seven years, Darren has previously worked as the state property manager with one of Australia's most respected real estate brands recruiting, training, implementing policies and procedures and managing 28 property managers in 18 regional offices over South Australia and the Northern Territory. Darren has presented for the Real Estate Institutes in WA, SA, NT and TAS and has presented at the Leading Property Managers of Australia Forums(LPMA) in 2007, 2008, 2009, 2010, 2011 and 2012
Make sure you never miss an episode by subscribing to us now on iTunes
And dont't forget to leave REB a review!

Listen to other installment of the Real Estate Business Podcast