When it comes to changing franchise networks or launching your own real estate brand, it pays to plan ahead.
Whether you're a franchise business owner looking to switch networks, an individual agent launching a start-up, or you're simply keen to develop your own business, there are some important considerations to make before you take the leap.
What's making you switch?
The key driver for most agents is often the commission split and for principals heavy franchise fees, and the understandable desire to retain more of your earnings. Other reasons may be lack of flexibility in where you sell, high fees, and lack of control over other offices from the same brand opening up nearby. You may feel unsupported by your head office. Or you may simply have reached a point where you feel your personal brand has exceeded that of the firm and therefore it's time to go out on your own.
A word of warning, however: you don't want to jump ship from your current company without understanding all the requirements — both financial and non-financial — involved in running a profitable real estate business. The key to a successful switch is planning, ideally up to six months in advance of your move, but can be managed in shorter time frames where the need dictates.
What's involved with switching real estate networks?
Always check your current contract
If your licence with a franchise is up for review, it's generally straightforward to make the switch, but if you are still locked in, you may be charged for breaking your contract. For individuals, you'll also need to know how much commission you'll receive on pending deals if you exit the business prior to settlement. Plan accordingly.
Timing is critical
While transitioning to your new brand, you will also need to stay on top of any pending sales. Existing clients, in particular, should feel confident that you are still able to give their property your full attention and their campaign will be a success. You also don't want to have too large a gap between leaving your current role and taking on new listings under your own banner, as maintaining momentum in the marketplace is critical.
Get your staff on board
Talk to employees and sales staff as early as possible, maybe engage them in the decision-making process, giving them a feeling of propriety and encourage them to feel excited about the move by understanding and supporting the decision. Loyal staff members are your best asset, and a brand change can inject excitement back into the workplace. Be sure to keep your staff engaged and informed so you don't lose them, alongside their valuable knowledge and expertise, in the move.
Register for licences
If you are an individual looking to launch your own business, you may need to study and register for additional real estate licences, so you'll need to factor this into your schedule and budget, along with any ongoing training costs.
Email systems and a network
You may need to set up new email systems such as Microsoft 360 or Google for business, buy computers and create a network for document storage either onsite or in the cloud. Additionally, you might need to subscribe to a third-party CRM as you will no longer have access to existing proprietary franchise software.
Establish a fresh and distinctive brand
Branding is essential to the business of real estate, especially if you want to stand out against long-established franchises. You'll need to develop a logo, stationery, signage, website and a social media profile, with the help of graphic designers and copywriters. And you'll need to come up with a great name for your business, too!
Plan your digital changeover
Be prepared to lose access to your corporate website, email addresses, contact numbers and social media accounts. Make sure you update your email logins and passwords long before the changeover date, else you could get locked out of your accounts. Export contacts so you don't lose valuable information that resides in a database you no longer have access to. A word of caution for individuals, however, is not to breach your employment agreement.
Get help project managing the changeover
Source external help or put together an internal team to help manage the transition. Managing a brand changeover takes precious time that would otherwise be spent running the day-to-day business. For the least amount of disruption to your current clients, you'll need to allocate your resources carefully.
Review all contracts
This includes contracts with suppliers and staff. Work out what you are going to continue with, streamline or renegotiate. Also look into any costs associated with changing your business model and name, such as needing a new Pty Ltd if you didn't have a non-brand name. This is an ideal time for that "spring clean" of your business.
Consider the ongoing running costs
Though many agents now handle much of their business via their phone, some people still opt to have a physical workplace for meetings and as a street presence. If you move offices or renovate a new workspace, you'll need to factor these costs into your calculations, along with accounting, maintenance costs and insurance. A "virtual" office is a cost-effective option and a good way to start. Remember, office premises can be added at a later date if and when needed.
What's important after you've switched to a new brand?
Develop your online presence
Facebook and Instagram are increasingly important as tools to build relationships with clients and establish yourself as the local real estate expert in your area. Think about allocating time and money to building your new profile once you've made the switch.
Official launch communications
Contact your clients and introduce them to your new brand. Ensure that your long-standing or former clients will know where you are and hopefully turn to you when they need an agent to sell or manage their property, understanding that it's the same trusted agents with a different (and hopefully better) skin.
Planning is everything
Deciding to go it alone or switching real estate networks is a decision that only you can make. But for many agents, the rewards of increased flexibility and financial gain are worth the initial time and effort involved.
By getting as much advice as possible, and planning your changeover strategy well in advance of alerting your current principal or franchise owner that you are leaving, you will be in a strong position to make a smooth and ultimately successful transition.
ABOUT THE AUTHOR
---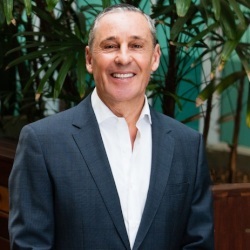 Paul is the founder and CEO of One Agency.
He offers real estate professionals an opportunity to reap the financial rewards of going it alone, with the security (and clout) of an established brand.