In a bid to better represent the work done by business development managers (BDMs), this director of growth has coined a new term for the role.
Alexandra Gonsalves has revealed that she now uses the label of "investor consultant" for employees undertaking the all-important role of onboarding new property clients to the business.
Speaking on a recent episode of The WIRE, the director of growth at Local Property said she believes "that is a better representation of the role that we do as business development managers. We are consulting with investors, and we want to know what their goals are, and I think it all just comes back to that."
While acknowledging that an investor consultant job is a sales function, it is still "a completely different role", according to Ms Gonsalves.
"A BDM is a problem solver. We find people who have a problem and then we work out a solution for them."
She sees a core function of the investor consultant role being about "helping people who are trying to create wealth through property".
"When your BDMs and your sales people have that mindset, it's a completely different conversation with the client on the other end of the phone," she explained.
Touching on the importance of providing clients with a value proposition, Ms Gonsalves emphasised how an investor consultant could get their message across by explaining to a potential client not only the vision of the business and the direction it is going but also "how you're going to help them create wealth".
From her perspective, oftentimes, BDMs, sales agents and property managers fall into the trap of making assumptions.
"We are in the business of 'people assuming', which is quite dangerous because you assume that they want a lower fee, but they actually want a high-quality service," she said.
Seeing it as "is probably one of the biggest mistakes that every salesperson makes – regardless of whether you are a BDM or a salesperson – you just assume that you're going to have to fight on the fee".
While the odd landlord may feel that price is the biggest factor, Ms Gonsalves said that majority of the time, potential clients "just want to know that their investment's going to be looked after and they want to see value".
Requiring a "completely different type of conversation" to a sales spiel, Ms Gonsalves cautions businesses who are looking to employ investor consultants – or business development managers – against providing them with sales scripts.
"It's a longer-term sales role," she pointed out, reminding business owners and BDMs alike that "you're not going to get them off the first or second phone call!" she said.
"I think that's what really disheartens BDMs. They come in gung ho as salespeople – and they're like, 'I made three phone calls and they haven't signed with me … what's going on?"
Revealing that it can often take eight to 12 points of contact, Ms Gonsalves admitted that even she has worked on clients for upwards of three to four years.
"I find what you do four weeks prior, other results that you'll see four weeks, six weeks down the track. If a BDM isn't on target, potentially, they haven't spoken to enough people, but also, you'll see those results in the four to six weeks to come whilst they're setting their pipeline up," she offered.
It's also about changing the way you approach the contact, according to the director of growth, who advocates for BDMs and investor consultants to speak to people "like they're your friends or family".
"I have that mindset with every single phone call," Ms Gonsalves said.
"I'm speaking to them as if they're my sister or my brother or my mother or my father. They're not just a client on the other end of the phone that has something for me to gain. It's not about that. It's about what issues are they having?"
Listen to the full conversation with Alexandra Gonsalves here. 
ABOUT THE AUTHOR
---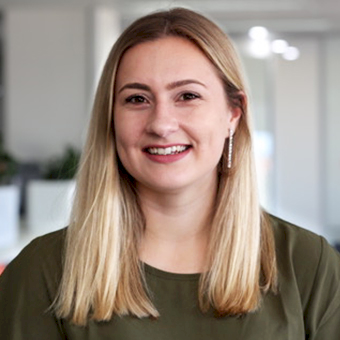 Grace is a journalist across Momentum property and investment brands. Grace joined Momentum Media in 2018, bringing with her a Bachelor of Laws and a Bachelor of Communication (Journalism) from the University of Newcastle. She's passionate about delivering easy to digest information and content relevant to her key audiences and stakeholders.