Most directors try to get too much out of their property managers, according to this South Australian business owner.
Speaking on a recent episode of REB's The WIRE with Grace Ormsby and Sadhana Smiles, Valerie Timms highlighted the importance of "sustainability" as critical for the profession – before considering many properties as underpaid and overworked.
"They overload them with way too much stress," she began, opining that property managers "are underpaid and overworked".
"I wouldn't do property management, not for the money that's paid," she conceded.
According to Ms Timms, more directors need to look at their profit levels and "give some of that up" to the property management department – especially if they're "getting this awesome profit" from the division.
She warns that without change, "people are going to exit the industry because they're just burnt out".
"It's hard work, and they're undervalued, underappreciated," she said.
Ms Timms does understand that money is a huge driver within the real estate profession but is "a believer in always putting back into your business".
"I believe in putting back for the long-term returns and the long-term gain," she said.
It's one of the reasons she's invested in a brand-new office – and the training of new staff members to grow the team.
Highlighting that both salespeople and property managers alike spend a lot of time on the road, she said: "When they come back, they want to come back to somewhere beautiful.
"They don't always want to be working from home. 
"We discovered during lockdown, we hated working from home. We needed each other to feed off, to be inspired by."
The new Timms Real Estate space contains a gym, a café, a boardroom, and a big staff kitchen "all under one roof".
With the new office acting as a recruitment tool of sorts, Ms Timms is well aware of the current crisis facing the industry – and the number of people leaving it. It's why she also sees value in investing in new talent.
"Everyone was a trainee once," she prefaced.
"We've got to be able to give back.
"If I finish up in real estate one day, I'd like that to be my legacy, that I've helped train and induct a large number of people into a really fulfilling and financially rewarding industry."
You can read more about Ms Timms' office fit-out here.
Listen to the full conversation with Grace Ormsby and Sadhana Smiles here.
ABOUT THE AUTHOR
---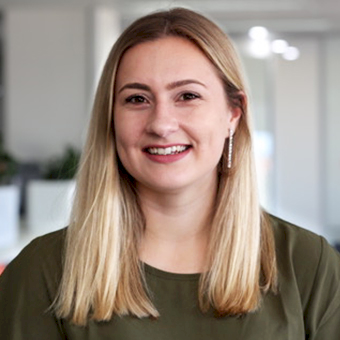 Grace is a journalist across Momentum property and investment brands. Grace joined Momentum Media in 2018, bringing with her a Bachelor of Laws and a Bachelor of Communication (Journalism) from the University of Newcastle. She's passionate about delivering easy to digest information and content relevant to her key audiences and stakeholders.