The notion of running a real estate business without a shopfront wouldn't have existed 10-15 years ago, because if you wanted to open your own real estate business back then, the first thing you did was choose an area and secure a shop.
I'm not anti-shopfronts, I'm just against the costs of shopfronts, especially if the task at hand can be achieved without one. I've met a lot of agents – and I was one of them – who find that meeting their monthly business operating costs are a constant pressure.
Vendors know that buyers in the market to purchase don't actually walk into shops to buy real estate, and agents can't possibly rely on it. Potential buyers search on the internet, see signboards on properties, and are targeted by savvy client-focused agents.
The agents of the future are knowledgeable around their operating costs and understand that a combination of smart branding, targeted marketing and clever database management are just some of the tools they embrace.
It's old-fashioned and antiquated thinking to expect a shopfront to produce automatic results. I would go as far as saying that, in many cases, the subconscious reliance on the shopfront could make an agent complacent. A successful agent does not sit in an office waiting around for their next deal to 'appear'; they are out in the marketplace proactively making it happen.
A fraction of the funds spent on expensive shop rent could be applied to targeted online marketing, or local area marketing, which may yield far better results. The forward-thinking agent is able to vary these types of initiatives as the market conditions change, while shop rent is a static approach.
Create a business that's lightweight, simple and inexpensive to operate – now there's a good idea! I call it the 'crawl, walk, then run' approach. Keeping it simple with this approach is a mantra you'll keep on hearing from me. It's part of what we stand for at One Agency. Keep your expenses to a minimum – and one of the biggest expenses in real estate business is leasing a shopfront.
Many principals talk themselves into the high cost of a sleek shopfront by telling themselves that first impressions are everything. But they forget that a successful real estate business is about the people, not the premises. Yes, you want potential clients to feel they can trust you and that you're a successful agency. But is it actually necessary to do that with a super-styled shopfront?
The real estate business is traditionally one where you go out and visit people in their homes or place of business, offering a personal service and saving clients the trouble of coming to you. The shopfront is really just a billboard for your brand and you can get your business in front of potential clients without the street-front appeal.
I'm not saying that shopfronts don't serve a purpose for many agents, but nowadays there is a serious argument against the need for one. Only 35 per cent of our members choose to have a shopfront premises; the other 65 per cent work from virtual offices. You should consider how much extra revenue you will need to create to maintain an acceptable profit margin that could have been easily achieved without the shop and costs involved.
My mission is to assist agents in establishing a cost-effective and sustainable business with a maximum profit margin. That makes sense to me, especially when a shopfront is unlikely to ensure success. In my opinion, it makes the viability and sustainability of that business less likely, due to the increased revenues required and much slimmer profit margins.
If you look at any reliable industry benchmarking, such as Macquarie Bank or Lee Woodward's Real Estate Academy, you will be told the average real estate shopfront business across Australia has a profit margin of approximately 15 cents in the dollar – yes, that's 15 per cent. That means 85 per cent of revenue goes into operating costs, and this is considered normal.
Well, I think it's highly abnormal to spend all that time and energy and substantial risk just to keep 15 per cent of turnover! And I would suggest that it's also an extremely risky business scenario. How much do costs need to rise or profits drop before you are losing money? That's exactly why agencies go under.
The expenses for running a real estate business with a shopfront are non-stop. When you're sleeping, they're roaring along. My objective is to create a business for agents where the above scenario is completely reversed, where 15 per cent of revenue goes into operating costs and 85 per cent is net profit – that is profit after all expenses. I know lots of agents who do just that.
Depending on your personality, a simple virtual shopfront business is far easier and less stressful. If you're less stressed, you will have more energy and enthusiasm for your work, and as a consequence you will be better at what you do.
Conversely, if you're stressed and under the pump to find all the deals needed to pay all the operating costs, then you'll potentially be less efficient at what you do, and less productive, resulting in fewer deals. Then you're highly likely to get into a vicious circle with no relief.
Don't underestimate how potent and enjoyable a simple, structured and easy-to-manage virtual shopfront business can be.
ABOUT THE AUTHOR
---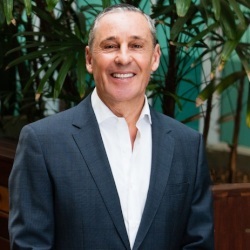 Paul is the founder and CEO of One Agency.
He offers real estate professionals an opportunity to reap the financial rewards of going it alone, with the security (and clout) of an established brand.