With January now a distant memory you still have 11 months of 2015 to fast track your rent roll growth. 
As many of you know I have my '101 Business Development Concepts and Ideas' program, which covers rent roll growth strategies for all agencies no matter where you are located.  Choosing to be an agency that will be innovative in 2015 will not only fast track your growth but also allow you to stand out from your competitors in your marketplace.
During my time as a BDM I looked at my marketplace as one big pie! Sounds crazy I know but each agency in your area has a slice of this pie and only you can control how much of this pie will be your client share. If you become any agency that is complacent and doesn't embrace change you run the risk of not just losing your share of the pie but potentially missing out on your bite altogether.
In order to ensure this doesn't happen to your agency in 2015, my first recommendation is to ensure you have a strong implementation plan in place for your new innovative ideas. Coming into February we are now stepping into conference season and this is your opportunity to learn from the best of the best. Looking at the speaker line-ups for the next 12 months I have to say I'm loving the mixture of keynote speakers as well as highly-talented agents that are still active in the real estate industry. They will be sharing success stories and growth strategies that have allowed them to achieve amazing results in 2014. I can guarantee you that many of these guys will motivate you to change your ways and you will leave these events wanting to grow from a good agent to a great agent in 2015.  It is only those that come back to the office motivated, are prepared to change the way they think and are proactive about putting in detailed implementation program in place that will start to see success they deserve.
My second recommendation is to create referral partners in your agency and meet with other business owners to discuss a referral program. This was a high source of lead generation for our agency and one that I thoroughly enjoyed as well. Having leads through the agency from networking events and coffee meetings with local business owners are far more enjoyable then cold calling, from my experience.
My third recommendation is to research your rent roll to see where your landlords are based. Do you have a strong local presence or are you servicing more international clients? At Wide Bay Prestige Properties we had at least 50 per cent of the landlord contacts based on the Fraser Coast, so having a strong presence in the local media was a huge advantage to our agency. I work with agencies that have a high international landlord contact base and if you find specific cities where your clients are located or where the sales teams are generating buyers then it is recommended you research where they promote real estate market updates.   
My fourth recommendation is to work with your sales team, and for those of you that don't have one connect with sales-only offices. It still amazes me how much business walks out the door due to lack of communication within the team.
Do you ask your tenants if they have ever considered starting an investment portfolio?

 

Do you meet with your sales team or sales-only office once a week?
As a BDM, are you passed every opportunity when a buyer mentions "investment" or "I have a rental property"?

 

Do you refer every opportunity when you hear "I'm looking to buy" or "I'm looking to sell"
Are you tracking where your leads are going in the business and if tenants are buying through other agencies or if our landlords are buying/selling through other agencies?
Lots to consider, I know, but a valuable opportunity that is being missed by so many agencies all over the world.  
Finally, my fifth recommendation is to set yourself a call connect challenge every day and make sure it is realistic. Many BDMs will start with 10 call connects per day, and from my personal experience your first 10 calls may need you to leave voice messages. This means the challenge is still on and you must keep calling until you have connected with 10 people. Don't be a BDM that just sits in the office and waits for the leads to walk in the door in 2015!
Pick up the phone make the calls and create a lead-generation pipeline that keeps running through the good times and the bad. Can't wait to see you all on our Innovate 2015 Think – Create – Act Tour, which starts this month in Perth and Adelaide. 
ABOUT THE AUTHOR
---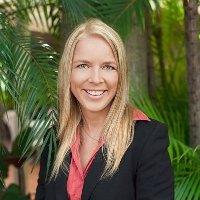 founder and mentor, BDM Academy
Tara commenced work as a trainee property manager following high school and after gaining valuable knowledge and experience became the business development manager at Wide Bay Prestige Properties.
Tara is dynamic, highly motivated and has a strong passion for business development. She has a very strong understanding and appreciates the importance of growth in the property management department.
Tara's major accomplishments include successfully securing 268 listings in one financial year and signing 30 new rental listings in one month.
In 2012, Tara won an all-expenses paid trip to Hamilton, New Zealand and spoke on a BDM panel at the REINZ National Conference.
Tara has previously spoken at the 2011 PPM National Conference about building your property management department and has written articles for the Property Management Journal and Real Estate Jobs Search, providing helpful tips for BDMs.
In 2013, Tara started the BDM Academy and has been contracted to consult for a variety companies throughout Australia and New Zealand. Tara's vast wealth of knowledge in property management growth is sure to interest real estate principals who are looking to grow their most valuable asset and income stream, their rental roll.
Make sure you never miss an episode by subscribing to us now on iTunes
And dont't forget to leave REB a review!

Listen to other installment of the Real Estate Business Podcast