The two questions I ask agents during our coaching sessions are: How often do you stay in touch with your current customers or prospective customers? And do you have a follow-up system in place?
So often, agencies of all sizes get stuck in quicksand and follow a routine where they forget to stay in touch with their customers. As a result, they become complacent with their level of business and end up taking their customer base for granted. If you think that your customers are going to stay with you just because they have experienced your service once or twice, then get ready to lose out to your competition!
In today's ever-changing marketplace, businesses are constantly developing new and innovative ways of serving their customers and attracting prospects. Retaining a client base is more difficult now than ever before, mainly because the grass really does appear greener on the other side. So what can you do about it? How do you stop your customers from going to the competition, while keeping a steady stream of prospects ringing your phone or walking through your door? Most customers are not going to purchase from you simply because they purchased from you once before – even if their experience was great and service was impeccable. If you do not stay in touch with your customers, they will simply go to someone else.
Loyalty is still out there. However, as always, loyalty must be earned and never assumed. The same applies to your prospects. Let's face it: you are an inconvenience to your prospective customers because it's a lot of trouble to switch suppliers or try someone new. There is a fair amount of risk involved too. Statistically speaking, a prospect must be contacted in some way or another at least seven times before they will purchase. The same applies to your current customer base. If you do not stay in touch with your customers, you are running a huge risk of being forgotten. Don't let that happen! 
Let's look at a few basic steps to help start building a system to stay in front of your clients. First and foremost, you have to step back and look at your customer base and your list of prospects. Do you have this list in a manageable form? So often, I run across businesses and salespeople who have their client list in a book, a stack of business cards, on a piece of scratch paper or just simply scattered all over the place. Your database is like gold and should be treated as such. Your customer database is the lifeline of your business.
Once you have your database in some sort of contact management software, then it is important to develop a group of activity series within your database software that will automatically prompt you to stay in touch with your customers and prospects.
These 'touches' are simple and require some form of contact or follow-up that will keep you in front of the person who will purchase your product or service. Some examples are a simple phone call, email broadcast, a post on Facebook or Twitter, a print ad, letter, or even a hand-written note. Following up does not require an enormous marketing budget. In fact, if you own a phone then your only investment is your time. The question that every business and organisation must ask is: just how important are customers to our business success? Obviously, you know the answer to that question. Therefore, the real question is: 
do I treat my customers and prospects like they are important?
As I write this article, I think back over the years to the people who I have done business with. It does not matter if I am purchasing a car, something for my home, or even clothes, I have consistently purchased from salespeople and businesses who have demonstrated to me that they value my business through consistent follow-up. Sure, we all buy from time to time on impulse. However, the sales process is just that – a process that develops over time. The agency who has a plan in place to help that process along through consistent follow-ups is the one who will succeed time after time.
We often talk about the economy and how we have been in the 'downturn' for a while now. Do not get caught up on all of this hype on good times versus bad times. Please take this time to start concentrating your sales and marketing efforts around the fundamentals. Sometimes, I stand back in amazement when I hear an agent say "my phone has stopped ringing". Hello? When did you start standing back and waiting for customers to call you? When you stay in touch with your customers, you will begin to build the relationship and the trust necessary for them to want to do business with you.
Follow up to show your desire to build a relationship with your customers and prospective clients. Regardless of which method you use, staying in touch with your clients is crucial to the success of your business. There are many valuable tools today that make this process easy and affordable. From email to mobile phones to snail mail, the simple act of following up will grow your business to the next level.
Customers want someone that they can trust and rely on, and that person can be you. If you are not taking care of your customers, then I promise you that someone else will!
ABOUT THE AUTHOR
---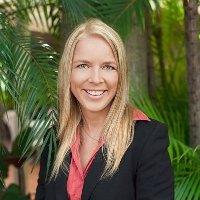 founder and mentor, BDM Academy
Tara commenced work as a trainee property manager following high school and after gaining valuable knowledge and experience became the business development manager at Wide Bay Prestige Properties.
Tara is dynamic, highly motivated and has a strong passion for business development. She has a very strong understanding and appreciates the importance of growth in the property management department.
Tara's major accomplishments include successfully securing 268 listings in one financial year and signing 30 new rental listings in one month.
In 2012, Tara won an all-expenses paid trip to Hamilton, New Zealand and spoke on a BDM panel at the REINZ National Conference.
Tara has previously spoken at the 2011 PPM National Conference about building your property management department and has written articles for the Property Management Journal and Real Estate Jobs Search, providing helpful tips for BDMs.
In 2013, Tara started the BDM Academy and has been contracted to consult for a variety companies throughout Australia and New Zealand. Tara's vast wealth of knowledge in property management growth is sure to interest real estate principals who are looking to grow their most valuable asset and income stream, their rental roll.
Make sure you never miss an episode by subscribing to us now on iTunes
And dont't forget to leave REB a review!

Listen to other installment of the Real Estate Business Podcast