Having the right mindset during your call connection sessions is what sets you apart from your competition.
The way you approach the call will have a massive impact on how your prospect will respond on the other end of the line.
You can get a lot of negative feedback from prospects when the fear of rejection is in your mind, or just from a simple lack of responsiveness. As you experience this once, twice, even 10 times a day, you can begin to feel like what you have to share is not valuable or worth the commission you are offering. This way of thinking will impact your level of confidence and what you end up saying when talking with prospects.
The reality is that your products and services offer some sort of value to your prospect. However, you need to stay fully aware of the value you offer prior to picking up the phone, and ensure your confidence has not been impacted by the previous call. This will give you a high chance of increasing your brand awareness and prospecting pipeline.
View yourself more as a helper and you will see yourself change from trying to talk prospects into wanting something, shifting more towards looking for the people that need the help that you have to offer.
This can totally change how you view conversations with prospects. When you are phone prospecting, shift your mindset to realise that you are not chasing and convincing prospects, you are just trying to find the clients that need your help.
Part of shifting your mindset should include changing some of the language and words that you use. A BDM chasing prospects and trying to talk them into something will say very different things to a BDM who is looking for people that need their help.
Here are some examples of weak language that you should avoid, and that do not fit with a BDM who has a high level of value awareness:
"I'm sorry for the interruption"
"I'm sorry to bother you"
"Have I caught you at a bad time?"
"This will only take a few minutes"
"I know you're busy right now"
Many BDMs approach phone prospecting with a 'picking fruit' mindset, and go from prospect to prospect with a closed mind, just looking for anyone to speak with and not really thinking about how they will approach the call.
You can make the change today by approaching your call connection session with a 'planting seeds' mindset. When you plant seeds, you don't know which ones are going to sprout. You plant more seeds than needed and, most importantly, you give them the attention and care they need to produce a result.
Make today the day you take a positive and productive approach with your call connection sessions, and grow a strong and powerful prospecting pipeline to start the second half of 2016 with a bang!
ABOUT THE AUTHOR
---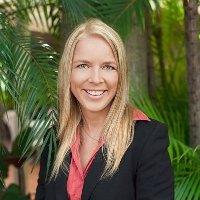 founder and mentor, BDM Academy
Tara commenced work as a trainee property manager following high school and after gaining valuable knowledge and experience became the business development manager at Wide Bay Prestige Properties.
Tara is dynamic, highly motivated and has a strong passion for business development. She has a very strong understanding and appreciates the importance of growth in the property management department.
Tara's major accomplishments include successfully securing 268 listings in one financial year and signing 30 new rental listings in one month.
In 2012, Tara won an all-expenses paid trip to Hamilton, New Zealand and spoke on a BDM panel at the REINZ National Conference.
Tara has previously spoken at the 2011 PPM National Conference about building your property management department and has written articles for the Property Management Journal and Real Estate Jobs Search, providing helpful tips for BDMs.
In 2013, Tara started the BDM Academy and has been contracted to consult for a variety companies throughout Australia and New Zealand. Tara's vast wealth of knowledge in property management growth is sure to interest real estate principals who are looking to grow their most valuable asset and income stream, their rental roll.
Make sure you never miss an episode by subscribing to us now on iTunes
And dont't forget to leave REB a review!

Listen to other installment of the Real Estate Business Podcast