One of Australia's top agents has revealed her new selling strategy that's revolutionised her ability to achieve greater turnover, without sacrificing client service.
On a recent episode of Secrets of the Top 100 Agents, the fourth-ranked agent in REB's Top 50 Women in Real Estate 2021, Carla Fetter, said COVID-19 enabled her to be "more creative" around her selling strategies. 
For the partner, who operates out of the Jellis Craig Armadale office, the biggest change — and the most effective, in her opinion — has been the contraction of her sales campaigns.
Instead of running a campaign across four Saturdays, Ms Fetter revealed she now only runs three-week campaigns — a nod to the Sydney model — where properties are listed for auction "but you're very open to selling them pre-going to market or within the first week of the campaign".
"I firmly believe that you meet all your best buyers in that first week," she offered.
"You have your auction on that third Saturday, so it just means that turnover pace can happen a little bit more quickly as well."
From her perspective, there's also a lull that does occur in traditional longer campaigns — Ms Fetter called the third Saturday "now redundant".
When questioned about the reaction Ms Fetter gets when proposing a shorter campaign to clients, she said "they love it!"
She continued: "When they've got kids and they're thinking, 'How the hell am I going to keep my house clean?' And you say, 'Hey, I'm going to run the process a little bit shorter than my competitors', they think it's fabulous."
It was a change in strategy born out of Melbourne's "heartbreaking" extended lockdown last year, when Ms Fetter and her team already knew they were dealing with a condensed spring market.
"The thing that was comforting is that all the other agents were in the same boat, but I knew that for the second half of the year — when we were able to be active — I just knew that if I condensed the campaigns, then I could fit more in," the agent expressed.
While that formed part of the thinking, it wasn't actually the main driver.
According to Ms Fetter, "the driver was the realisation that you don't need the four Saturdays".
"The way that buyers were behaving at that time is that they were coming and seeing a property in that first week and then they were saying, 'Okay. Well, we want to buy it. What do we have to do to move forward?'"
It also "happened organically" that many of Ms Fetter's campaigns at the time were run as three-week expressions of interest campaigns, which she admits as being "a new thing for all of us".
She said: "These usually occurred by saying to our vendors, 'Hey. I found this buyer, turns up in week one and they are prepared to offer us a great price. Let's really consider that.'"
With the shift in thinking, Ms Fetter said they had no qualms about finalising sales agreements before running a campaign's full course.
"I wouldn't say that I specifically designed it to be that way. I just felt that buyers liked the speed of which we were moving," she said.
The shift in strategy is clearly paying off in spades for the agent, who last year managed more than $150 million worth of residential property sales from 85 settlements, with average days on market of just 20.5.
She told REB: "I have no issues in telling my secret herbs and spices here because I actually hope that more agents do adopt this because I do believe that it works and it's very effective.
"There was no innovation around thinking for strategy prior to COVID. As I said, it was literally, 'Hey, this is how we've always done things, so this is how we're going to continue to do things.'
"I don't necessarily think I'm an innovator or a creative person, but I do like to try and think a little bit outside of the box where possible.
"I love the fact now that we do give advice that's a bit different. We back ourselves into sell[ing] more off market than we ever have before."
It's also had flow-on effects for her and her team's work for buyers — knowing how to identify "really good buyers in the market" and match them to properties.
The contracted campaign strategy is here to stay for Ms Fetter, considering "the first six months of this year has been a record for us".
She said: "It's been frightening. The numbers that we've seen through February and March, those two months were just incredible. Even April is usually a quiet month and that was strong and that tied in well to May. We've got 20 listings now booked from today until about early September and the goal is to have probably more like 30 between now and the end of September.
"Now we're setting the goal and the bar even higher!"
Listen to the full conversation with Carla Fetter here.
ABOUT THE AUTHOR
---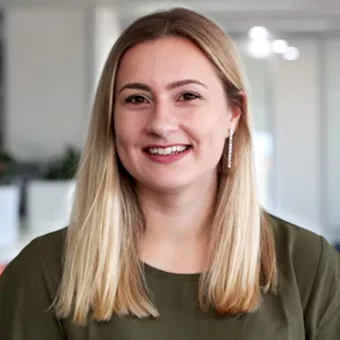 Grace is a journalist across Momentum property and investment brands. Grace joined Momentum Media in 2018, bringing with her a Bachelor of Laws and a Bachelor of Communication (Journalism) from the University of Newcastle. She's passionate about delivering easy to digest information and content relevant to her key audiences and stakeholders.